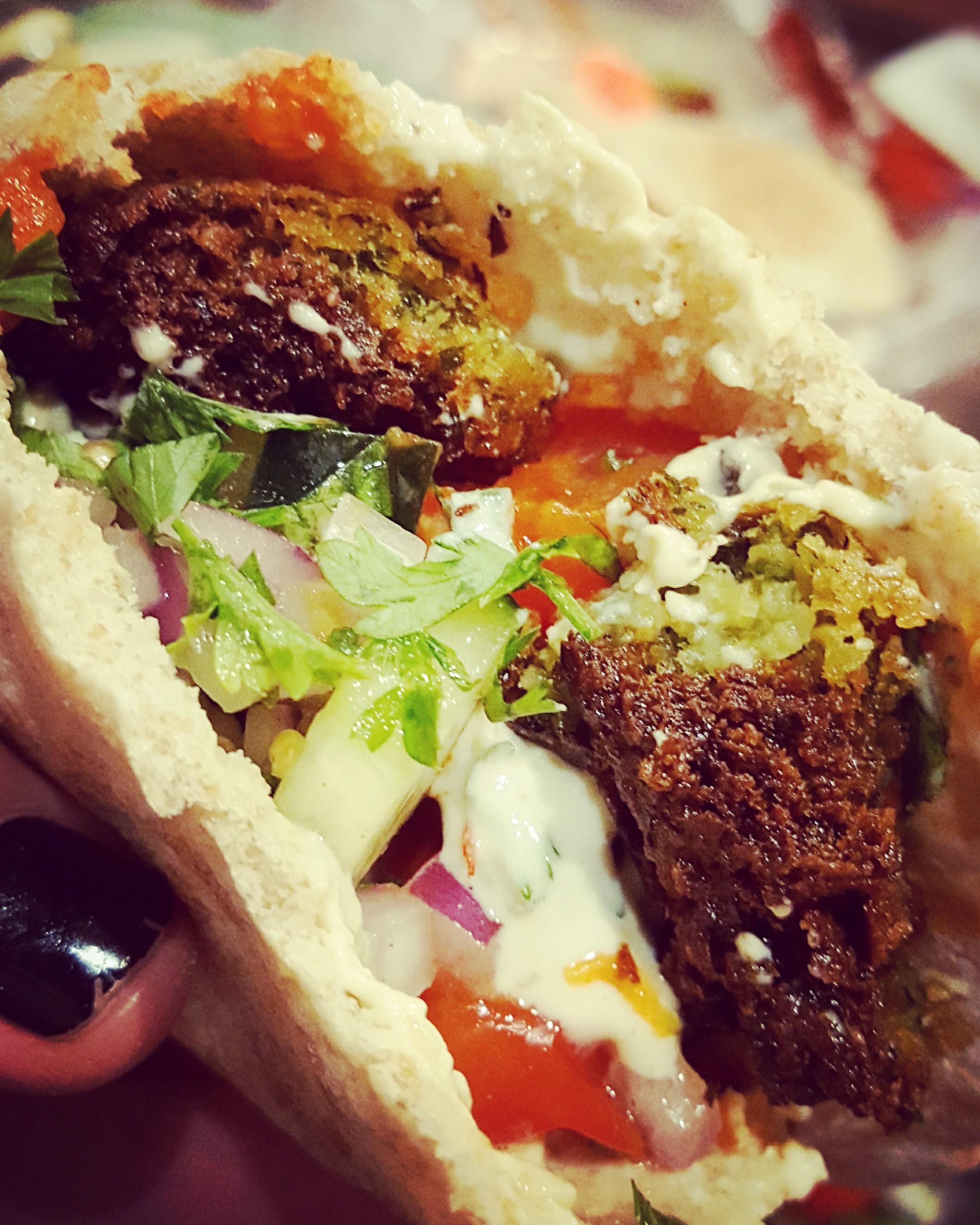 Homemade Falafel with Herb Tahini Sauce and Shirazi Salad
Homemade Falafel with Herb Tahini Sauce and Shirazi Salad
Falafel! The ultimate Middle Eastern  comfort food, the name of which probably comes from the word pilpel (pepper, felfel in Farsi- referring to the shape of a pepper corn) was made in two ways: In Egypt today, from crushed, soaked fava beans and combined with chickpeas or, as Yemenite Jews and the Arabs of Jerusalem did, from chickpeas alone. My version uses chickpeas and herbs and it's simple and finger lickin' good!
Note: Add a drizzle of Harisa (a hot sauce paste used in North African cuisine, made from chili peppers, paprika, and olive oil) for an extra kick!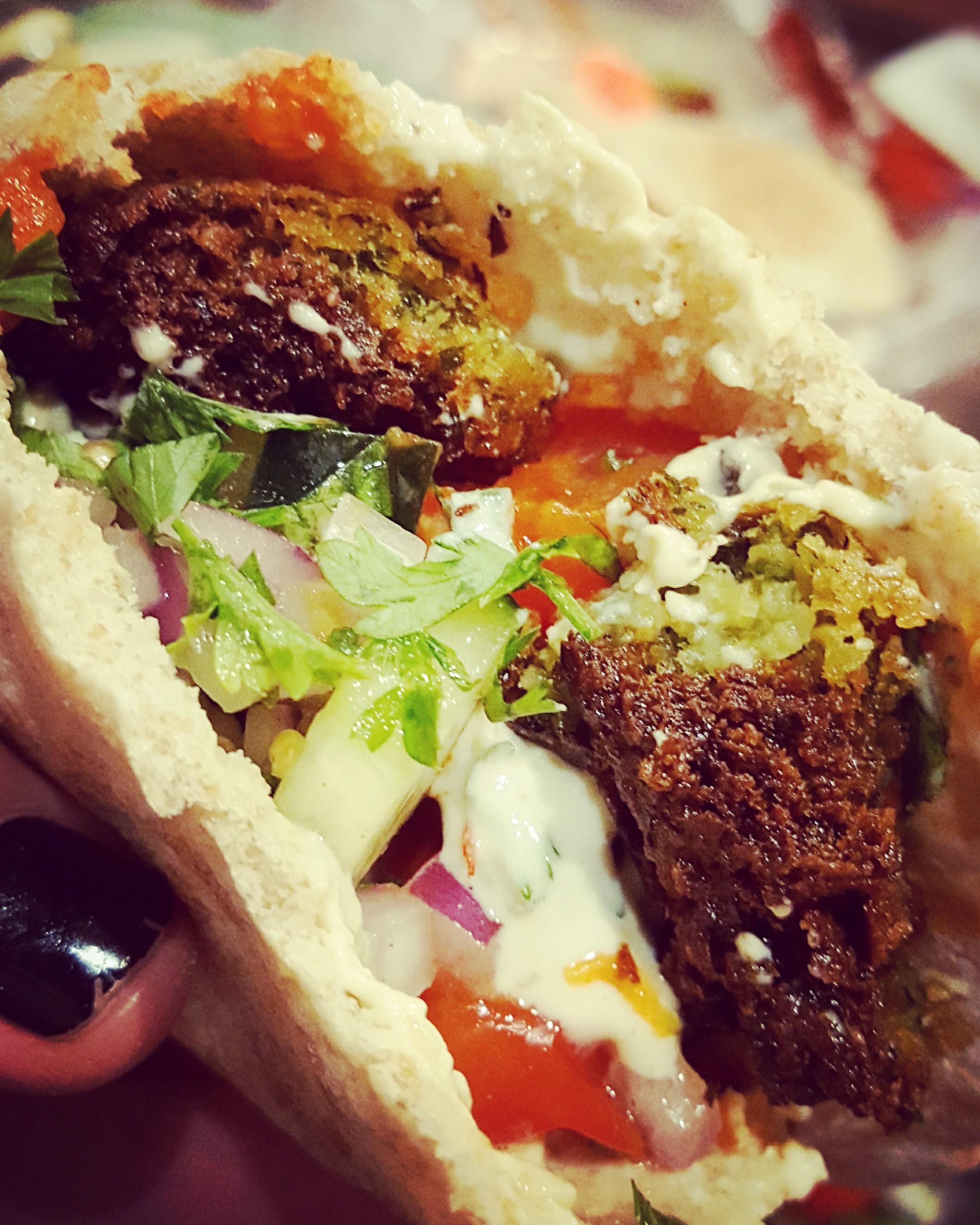 For the Falafel-
Ingredients:
1 cup dried chickpeas
1/2 large onion, roughly chopped (1 cup)
2 tablespoons finely chopped fresh parsley
2 tablespoons finely chopped fresh cilantro
1 teaspoon cumin
1 teaspoon whole coriander seeds
1 teaspoon salt
1/4 teaspoon pepper
1 teaspoon dried red pepper flakes
4 cloves of garlic
1 teaspoon baking powder
4 tablespoons flour
Vegetable oil for frying
Pita bread
Directions:
Soak chickpeas overnight in a bowl (covered in 2 inches of cold water) OR use canned chickpeas, washed + drained.
Place chickpeas and onions in the bowl of  food processor.
Add the parsley, cilantro, hot pepper flakes, garlic, crushed coriander seeds, cumin.
Process until blended but not pureed.
Sprinkle in baking powder,  flour, and pulse.
Add enough flour so you can form a small ball with the dough and it doesn't sticks to your hands.
Form chickpea mixture into balls about the size of walnuts.
Heat 3 inches of oil to 375ºF in a deep pot or wok and fry 1 ball to test.
If it falls apart, add a little flour.
Once you have the right consistency, fry about 5 balls at once for a few minutes on each side, until golden brown.
Let cool on paper towels to capture extra oil.
Stuff half a pita with falafel balls, shirazi salad and drizzle with tahini sauce .
Enjoy the ultimate comfort food!
For the Tahini Sauce-
Ingredients:

Ingredients:
2 garlic cloves (optional)
1/2 teaspoon fine sea salt
1/2 cup well-stirred tahini (sesame paste)
1/3 cup fresh lemon juice
1/4 cup water
2 tablespoon finely chopped fresh cilantro or parsley (or better yet both!)
1/4 teaspoon ground cumin
Salt + pepper to taste
Directions:
Mince garlic, then mash to a paste with sea salt.
Mix garlic paste and remaining ingredients.
Add water or lemon juice to taste and to adjust for desired consistency.
Shirazi Salad
Ingredients:
3 medium Persian cucumbers
1/2 raw red onion
1 large tomato
2 tablespoons chopped fresh parsley
2 tablespoons chopped fresh cilantro
Juice of 1 lemon
Drizzle with olive oil to preferred taste
Salt + Pepper
Directions:
Mix all ingredients together and serve.

***A special thanks to the Kashin Kitchen for hosting the recipe testing of  this deelish dish!