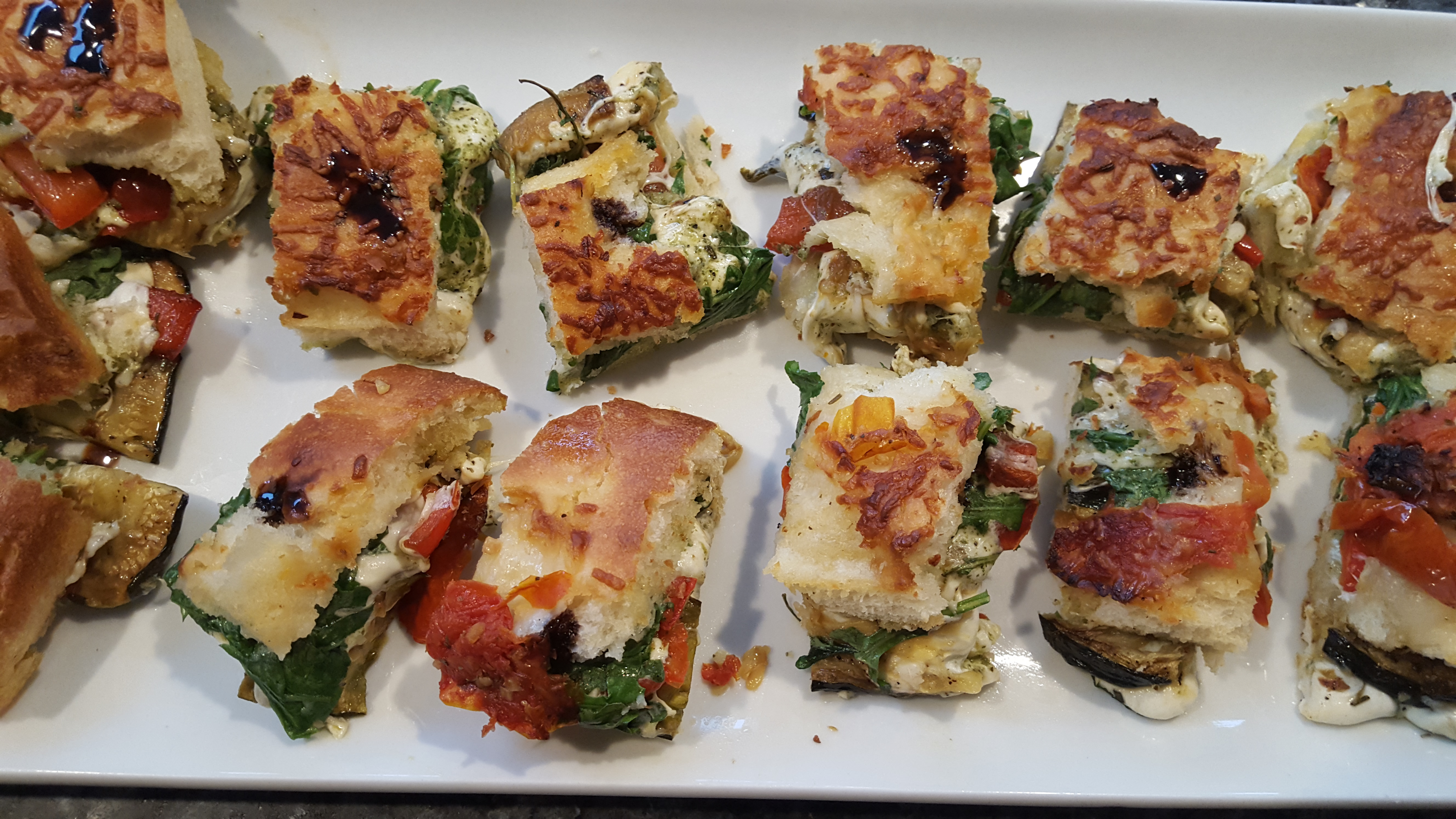 Tuscan Grilled Veggie Sandwich
Tuscan Grilled Veggie Sandwich
I created this delicious sandwich for a celebration gathering for my sister's birthday inspired by her favorite flavors and it was a hit! It's colorful, flavorful and the presentation had a "wow" factor for guests… or maybe it was just the melty gooye cheese oozing out the sides of the sumptuous panino that had everyone excited… ?
The natural ingredients layer together nicely and create a depth of flavor that is nearly orgasmic (direct quote from of the guests!). It's really easy to make too:
Ingredients:
I medium size loaf ciabatta bread (available at Whole Foods and other bakeries).
This time I chose a sun-dried tomato one which added another rich layer the flavor profile.
3 table spoons chopped rosemary
6 zucchini (may seem like a lot but they shrink when roasted).
4 sweet red peppers
Pesto (store bought, I like the options at Whole Foods or Fairway but choose your favorite).
Fresh mozzarella cheese.
3 cups arugula.
Olive oil
Balsamic vinegar (of Modena of course)
Directions:
Slice zucchini and red peppers and spread out on a baking sheet.
Drizzle with olive oil and balsamic vinegar.
Chop rosemary and sprinkle on the veggies with salt and pepper.
Roast in the over for 30-40 minutes at 375 degrees. Remove set aside.
Start assembling sandwich.
Cut ciabatta bread in half, separating top and bottom.
Layer remaining ingredients in the following order: Pesto, fresh mozzarella, zucchini, sweet red pepper, more mozzarella, arugula.
Cover with top piece of bread and press down.
Back in the oven for approximately 10-15 minutes to melt cheese and toast bread.
Slice as desired and enjoy!
I cut into small pieces for a party, but it can be served as a whole sandwich for your own personal enjoyment.