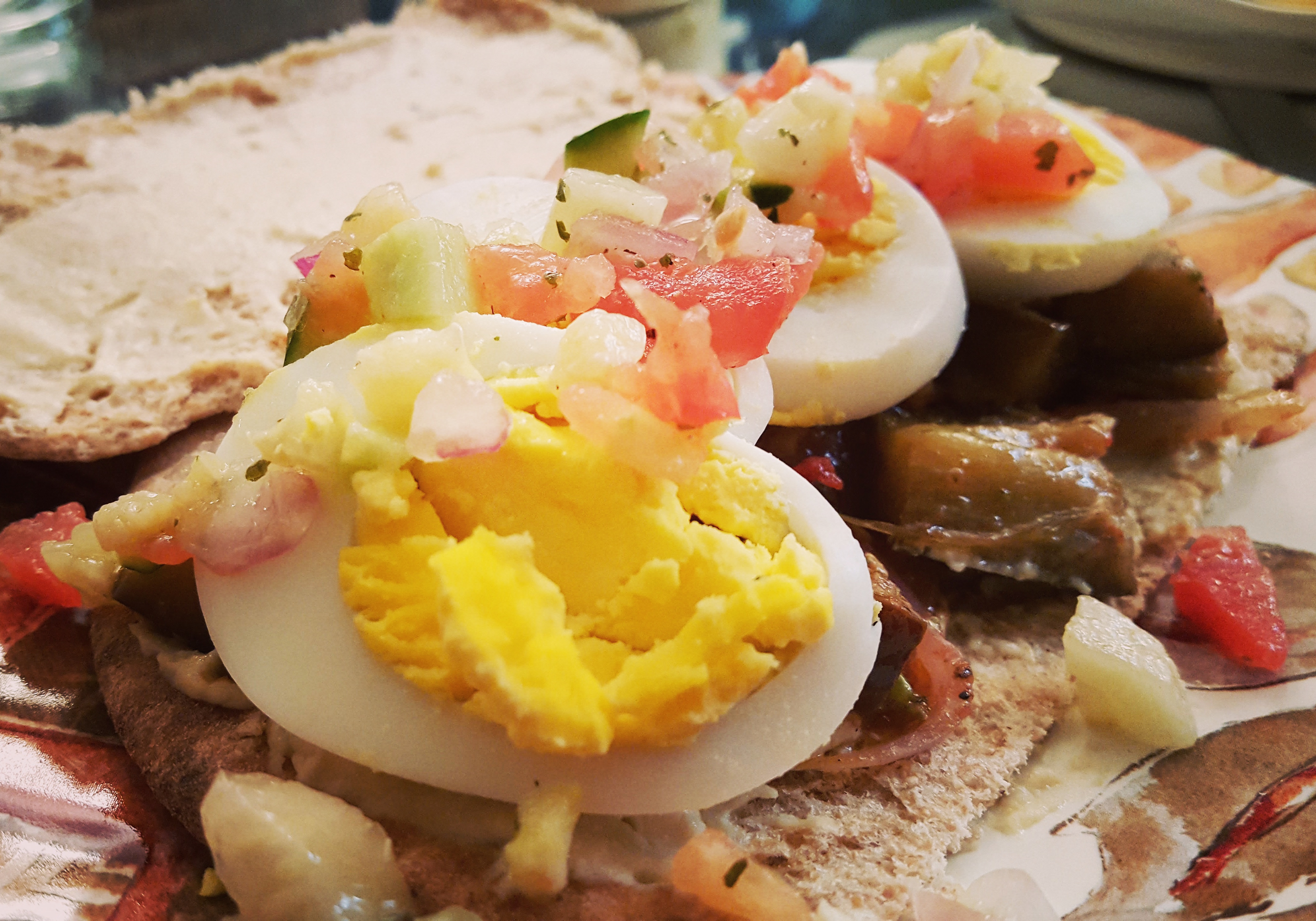 Healthy Eggplant & Egg Pita Sandwich (Sabich!)
Healthy Eggplant & Egg Pita Sandwich (Sabich!)
There are many delicious vegetarian sandwiches which originate from the Middle East and Sabich is one of my favorites! Possibly even second to Falafel which is so wonderful.
Sabich is inspired by Iraqi/Israeli street food and is dense with flavor. The chopped salad and pickles in brine offer a nice textural contrast to the softer eggplant and hard boiled egg. The hummus ties it all together.
Similar dishes like this exist in other Mediterranean cultures. In the Persian home I grew up in, Saturday morning breakfasts often included an eggplant and egg dish. Recipe testing for this post reminded me of simple family moments on casual weekend mornings. I remember my Father used to put red and white onion peels in the water when boiling the eggs which beautifully colored the eggs with gentle watercolor-like shades of amber, red and brown. This "colorful" memory made me smile. How simple things like discarded onion skin can increase the value and beauty of our experiences.
Try this for a weekend brunch or a meatless Mondays and you will not be disappointed!
Traditionally, the eggplant is fired, I saute or roast for a healthier alternative.
Ingredients:
1 medium red onion sliced thinly
2 cloves garlic chopped
3 Roma tomatoes
1/2 teaspoon red chili flakes
3 small/medium eggplants chopped in cubes
1/2 teaspoon oregano
1/4 teaspoon Za'atar (optional)
1-2 pinches salt
Desired fresh cracked pepper.
5 eggs hard boiled
Your favorite hummus
Pickles in brine
1 Medium tomato, 2 medium cucumbers & half of a small red onion for chopped salad
4 table spoons olive oil (3 for sauteing, 1 for chopped salad)
1 lemon
100% whole wheat pita bread
Directions:
Saute red onion and scallion in extra virgin olive oil.
Add minced garlic and red chili flakes.
Add chopped eggplant.
After a couple of minutes add chopped tomatoes, lemon juice, oregano, salt, pepper (and optionl Za'atar).
Saute until eggplant is cooked through.
In the mean time hard boil eggs in water (onion skin optional). Approx 10 minutes for 4-6 eggs.
Prep the condiments:
For the Israeli or Shirazi salad:
Chop tomato, cucumber and red onion.
Toss with lemon juice, olive oil, salt + pepper, and dried mint (optional).
Slice pickles in brine. Galil is my favorite brand found here.
Peel and slice the eggs.
Cut open pita pockets and generously spread both sides with your favorite hummus. My personal favorite is Cedar's garlic hummus, super flavorful!
Now begin to assemble this awesome sandwich!
Note- Roasting the eggplant is a faster alternative and equally delicious.
Just slice eggplant lengthwise, drizzle with olive oil and season with salt + pepper.
Bake in a 350 degree oven for 40 minutes, turning slices over half way through.