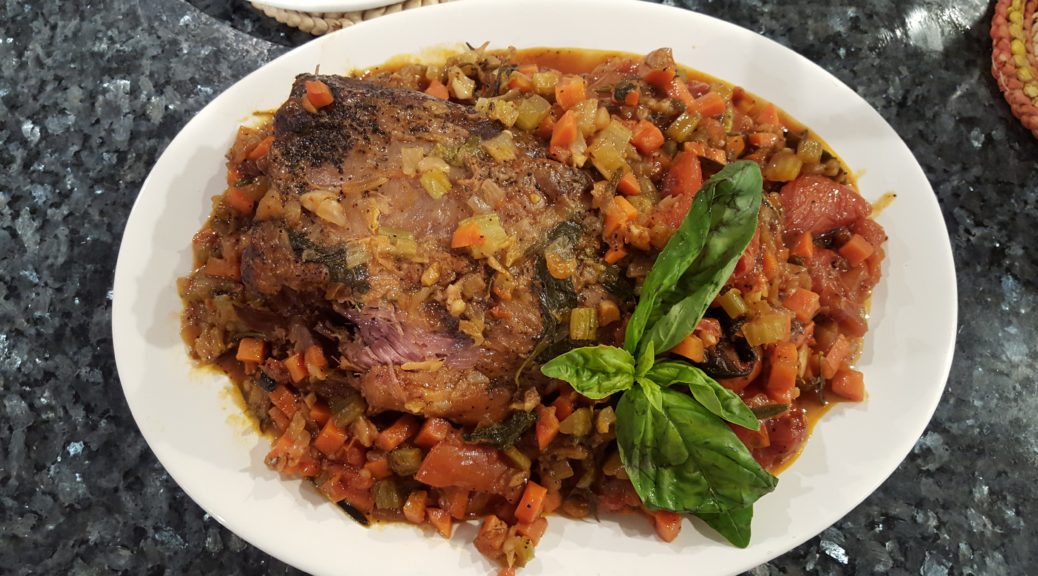 Beer + Basil Braised Brisket
Beer + Basil Braised Brisket
Brisket is one of my favorite dishes to cook for my family. It's warming and satisfying and one of those meals that's wonderful to share. As we bunker down for the cold days of winter in NY, it's the perfect hearty meal for a family dinner or for entertaining during the holidays.
There are many flavor combinations you can use for the braising liquid and aromatics. In this recipe I combined beer an basil and it was fabulous!
Tonight's menu also included Rosemary Sea-Salt Baked Potato Chips and a Cucumber-Onion Salad with Thai Basil. Meat and potatoes are always a good compliment and the lightness of the cucumber salad is a nice contrast to the richness of the meat and potatoes. The Thai bail echos the sweet basil from brisket and it all comes together nicely.
Ingredients:
4-5 lbs brisket with fat trimmed
3-4 teaspoon salt
2-3 teaspoon black pepper
4 tablespoons olive oil
3 medium yellow or white onions, chopped
2 cups chopped carrots
2 cups chopped celery
6 cloves garlic
2 bay leaves
2 tablespoon chopped rosemary
3 cups basil
4 roma tomatoes cut in quarters
3 tablespoons ketchup
Juice of 1 lemon
4 cups of Duvel golden ale beer (or your favorite beer)
Directions:
Heat oil to medium temperature.
I recommend using an enameled cast iron Dutch oven which enhances the cooking process by evenly distributing heat and locking in the optimal amount of moisture (I absolutely ❤️ my Le Creuset cast iron dutch ovens! This oval one is perfect for braising)
Pat dry the meat, then season both sides generously with salt + pepper.
Sear the meat for a 3-4 minutes on each side to brown. Transfer meat to a platter.
In the same oil (now deliciously flavored by the meat) add chopped onion, garlic, carrot and celery.
Saute for a 4-5 minutes until softened, making sure not to burn the garlic.
Place meat back in the pot.
Add tomatoes, basil, ketchup, lemon juice, bay leaves, rosemary and beer.
I used my favorite beer,  Duvel Belgium Golden Ale .
Important note: Before adding, I pour myself a small glass of the beer to enjoy and toast to the magnificent meal we'll have later!
Bring liquid to boil, then reduce temperature and simmer for about 5 minutes.
Cover pot and place in a a preheated over of 350 degrees.
Braise until meat is soft and tender- approximately 3-3/12 hours.
Once cooked, and the kitchen is filled with the amazing smells of deliciousness- set meat aside and let cool and rest. Don't slice the meat right away. Resting allows the juices to redistribute into the meat for juicy and tender results.
Once rested, slice the meat across the grain to serve.
While resting, take 2-3 cups of the braising liquid and place in a saucepan.
The reduction will make a delicious gravy.
Reduce over med/hi heat for approximately 15 minutes until you have a thick consistency.
Season to taste.
Enjoy drizzled over the brisket!
Pour a nice glass of red wine and enjoy the beautiful meal with friends + family!