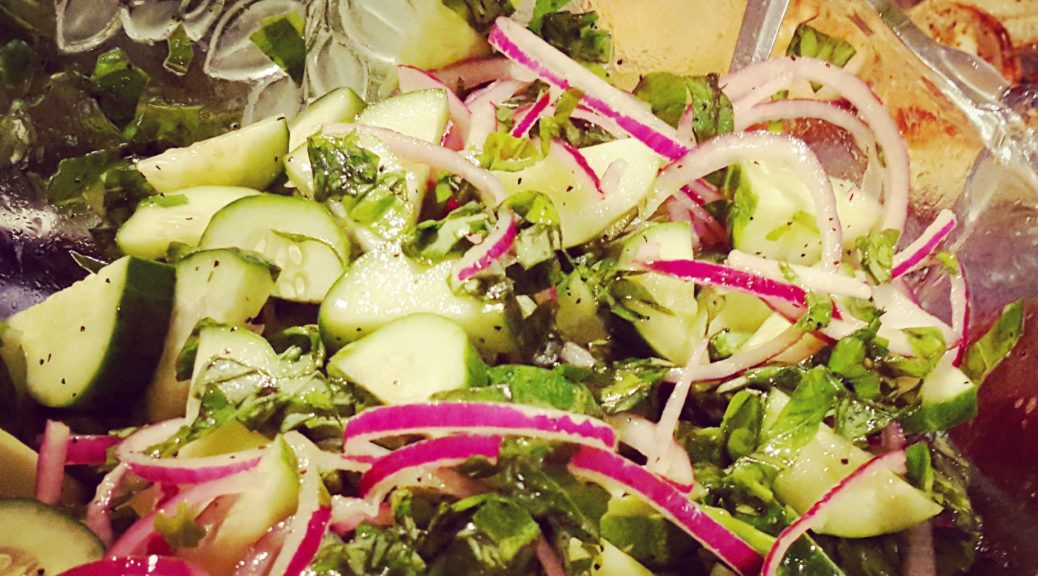 Persian Cucumber Salad with Red Onion & Thai Basil
Persian Cucumber Salad with Red Onion & Thai Basil
This salad is light n' lovely. It's aromatic and refreshing. It's also a great choice when you need lots of flavor but don't have a lot of time. I use Persian cucumbers because the fresh and fragrant taste is  an important part of the success of this dish. The basil's slightly sweet, lemony and minty aroma delightfully compliments the green and fruity fragrance of the cucumber.
If you don't have Thai basil, sweet basil works great too.
Ingredients:
Salad
5-6 Persian Cucumbers, chopped
1 medium red onion, cut into into rings
1/2-1/3 cup sweet or Thai basil, chopped
Dressing
3 tablespoons toasted sesame oil
2 1/2 tablespoons rice vinegar
1 tablespoon honey (adjust to sweetness preference)
1/2 teaspoon soy sauce
Salt + Pepper to taste [Expert tip: limit salt when using soy sauce even if using low sodium]
Directions:
Cut onions into thin rings.
Soak raw onion in water. [Expert Tip: Soaking raw onions in water reduces the pungent bite]
Cut cucumbers into rings, then cut into half moon shapes (or whatever shape your heart desires).
Chop basil.
To make dressing:
Combine rice vinegar, soy sauce, salt, pepper, honey.
Slowly add in Sesame oil and whisk. This helps emulsify the dressing so it won't separate.
Toss Cucumber, onion, basil + dressing together and enjoy!