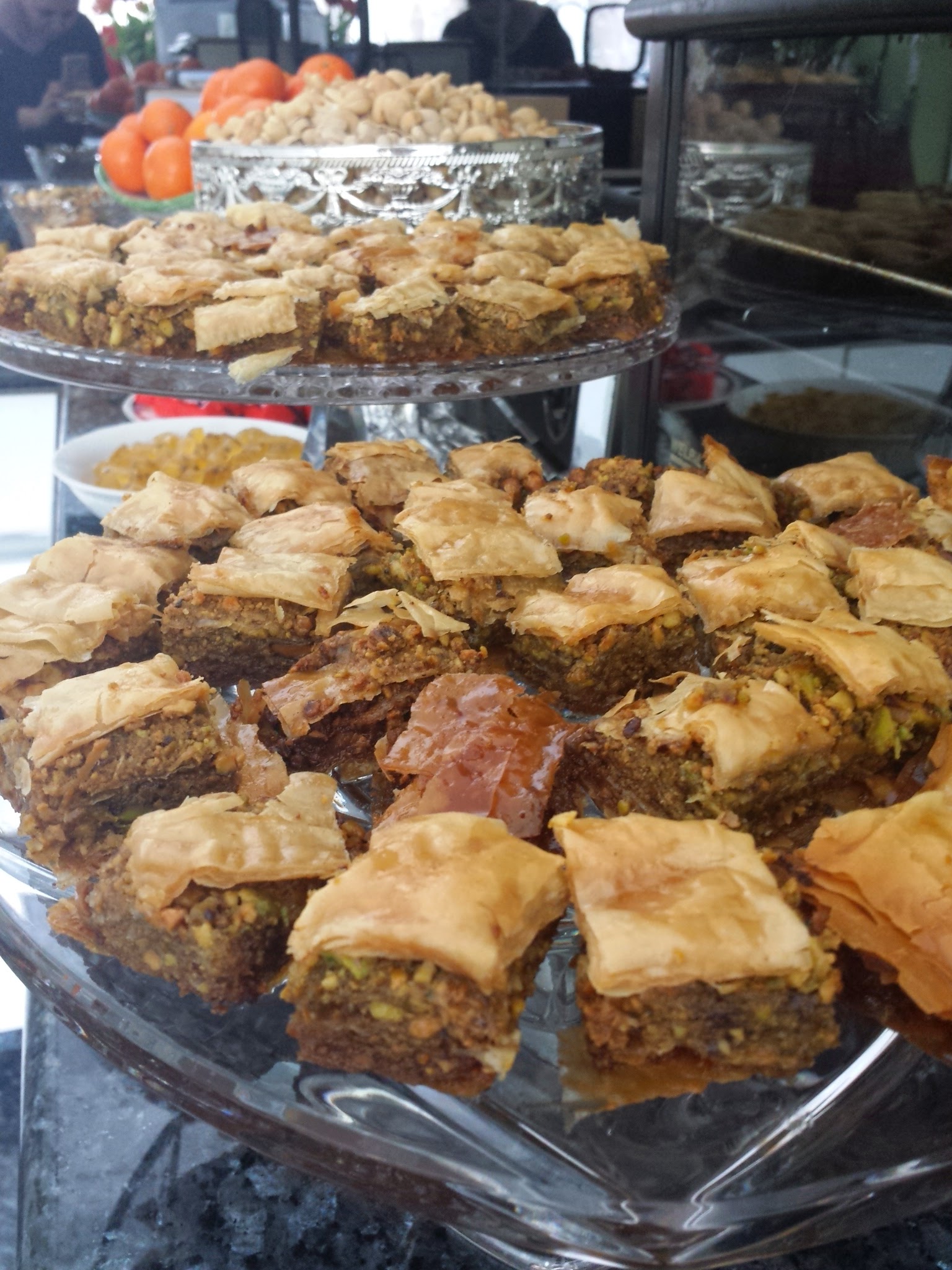 Like many other traditional foods of the past, the origin of baklava is difficult to narrow down. Every ethnic group with ancestry connected to the Middle East has some claim to this delicious pastry.  It seems generally accepted that Baklava was first made by the Assyrians around 8th century B.C.- who layered nuts with unleavened flat bread and drenched with honey.
The type of nuts or syrup ingredients often suggest the origin of the recipe. Syrup with rose water and cardamom is most likely be from Iran or Arab countries. While syrup with cinnamon and cloves is more associated with characteristic of the cuisines of the former Ottoman Empire and those of the western part of the Middle East. The Greeks version is often more walnut heavy.
I've had them all! Persian, Greek and Turkish baklava are all sumptuous in their own way. The Persian iteration  with the saffron + pistachios reminds of my Grandmother. The Greek variety takes me back to a wonderful trip to Mykonos a couple of years ago and the Turkish version echoes the sound of the call to prayer which we I  had in the Sultan Ahmed area of the the old city in Istanbul.
In a water-front cafe in Mykonos
At the top of the world in magical Santorini

In Istanbul, the honey on the baklava had a unique flavor, served with a rich cream. It was really enjoyable with tea or Turkish coffee of course!
So I decided to create my own version, taking a bit of inspiration from each culture. What can I say, I like the harmony of honey and nuts and dough. After all, there is a reason in ancient times Baklava was considered the food of the Gods!
My recipe is below. The layering requires a bit of patience and time but the end result is well worth the effort.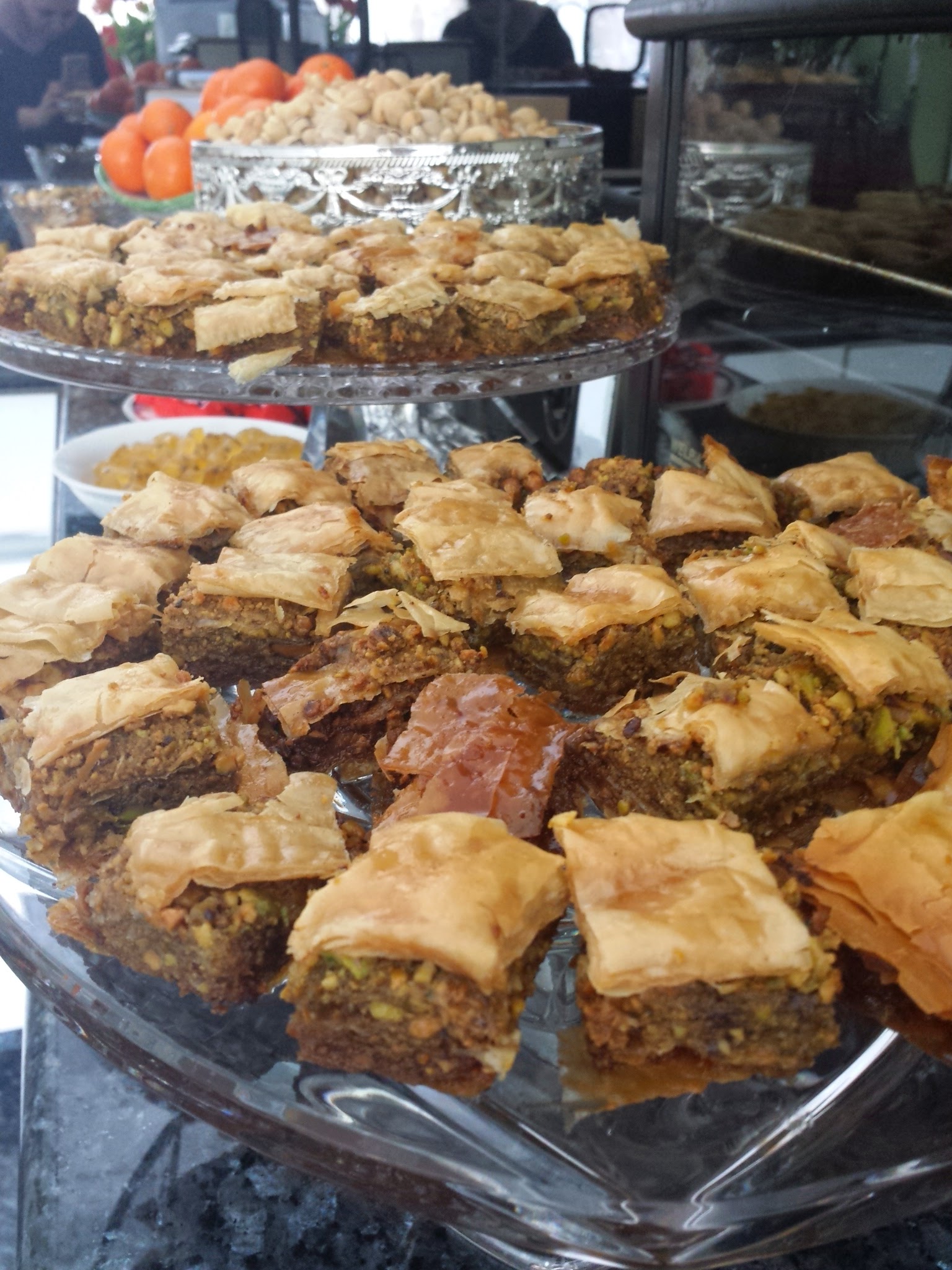 Ingredients:
For Baklava:
1 lb. of chopped nuts (almonds, walnuts, or pistachios are best, or use a combination of them)
1 lb of phyllo dough
1 cup of butter, melted
1/3 cup of sugar
1 teaspoon of ground cinnamon
1/3 teaspoon of ground cloves
Finely ground pistachios for garnish
For Syrup:
1 cup of water
1 cup of sugar
1/2 cup of honey
2 tablespoons of lemon juice
1 cinnamon stick
1 teaspoon Rosewater (optional but adds a wonderful fragrance and subtle sweetness)
Directions:
Lightly grease a 9×13 pan and preheat oven to 350°F.
Thaw phyllo dough.
Roll out the dough and cut in half so the sheets will fit in the pan. Cover with a damp towel to keep it from drying out.
In a food processor, process the nuts until you have small even sized pieces.
Combine with sugar, cinnamon, and cloves, pulse to mix.
In a separate bowl, melt the butter in the microwave or stove-top w/out browning.
Place a sheet of phyllo dough into the tray.
Brush phyllo with melted butter.
Repeat 7 more times until bottom layer is 8 sheets thick, each sheet being "painted" with the butter.
Spoon on a thin layer of the nut mixture.
Cover with two more sheets of phyllo, brushing each one with butter.
Continue to repeat the nut mixture and two buttered sheets of phyllo until the nut mixture is finished.
The top layer should be 8 phyllo sheets thick, each sheet being individually buttered.
Don't worry if the sheets crinkle up a bit, it'll add more texture.
Cut into 24 equal sized squares using a sharp knife.
Bake at 350°F for 30-35 minutes or until lightly golden brown, and edges appear slightly crisp.
While baking, make the syrup:
Combine the cinnamon stick, sugar, lemon juice, rosewater honey, and water in a saucepan.
Bring to a boil, then reduce to medium-low heat and simmer for 8-10 minutes until slightly thickened.
Remove the cinnamon stick and allow to cool.
8 Spoon the cooled syrup over the hot baklava and let cool for at least 4 hours.
Garnish with some finely crushed pistachios of desired.
Musical Inspiration-
Soap Kills – Cheftak