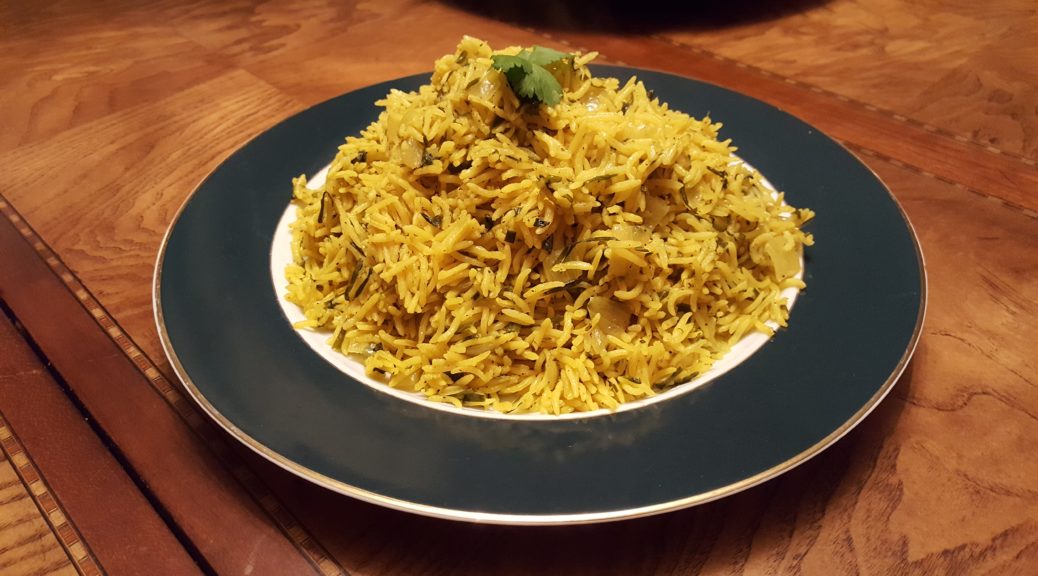 Green Garden Herb Basmati Rice Without a rice cooker
Green Garden Herb Basmati Rice Without a rice cooker
Thanks everyone for the feedback on this recipe! Many of you asked for instructions on how to make it without a rice cooker. We gave it a go and the results were equally wonderful- and we ended up with a bit of delicious tahdig (crunchy bottom) to boot!
The recipe utilizes the same ingredients as the rice cooker version. Here, I used a nonstick standard pot.  Instructions are below. Feel free to share your results and happy cooking!
Ingredients:
3 cups basmati rice
1/2 cup olive oil
1 large white onion, chopped
1 1/2 cups  fresh chives, chopped
5 tablespoons fresh mint, chopped
3 tablespoons fresh basil, chopped
1 cup fresh cilantro, chopped
1-2 tablespoons fresh rosemary, chopped
1 tablespoon ground turmeric
1/ 1/2- 2 teaspoons ground black pepper (adjust to taste)
2 1/2 teaspoons salt (adjust to taste)
Directions:
Wash + drain the rice.
Place rice in the pot and cover with approximately 1-inch of water.
Add olive oil, onion, basil, mint, chives, cilantro, rosemary, and salt+ pepper.
The black pepper beautifully highlights the herbs here and offers a nice kick. But feel free to adjust to taste if you prefer a less "peppery" end result.
Bring water to boil and mix ingredients.
Boil for 2-3 minutes, then reduce heat to medium-low, allowing rice to cook slowly.
Mix ingredients in the first 10 minutes of cooking.
To avoid rice from getting soggy, I used the Persian kitchen technique of placing a paper towel below the lid to capture  the moisture.
Cook on low heat for approximately 1 hour.
Once ready, serve the fragrant and beautiful rice pilaf with whatever protein you like.
I served it on the side of this delicious Food52 recipe from last week for chicken and Cabbage in a sheet pan–   it was fantastic!
The kitchen will smell divine and your pallet will be pleased.
Enjoy!