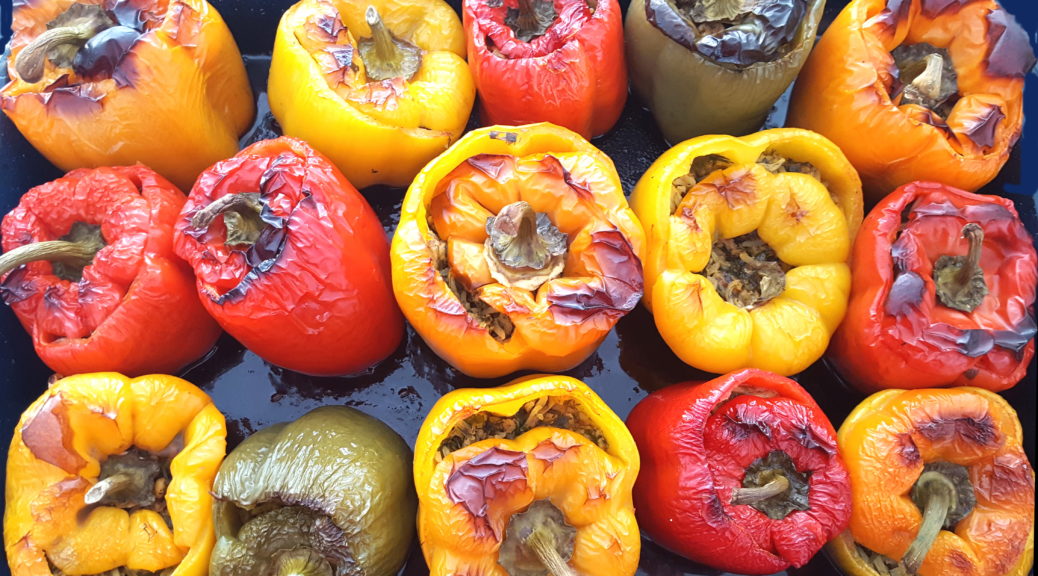 Persian Stuffed Peppers (Dolmeh)
Persian Stuffed Peppers (Dolmeh)
The term "Dolmeh" can be traced back thousands of years in the form of various stuffed vegetables and was popular all over ranging from the Middle East, to Central Asia, and surrounding areas. The vegetables stuffed could include tomato, pepper, onion, zucchini, and eggplant.  Stuffed grape and cabbage leaves were also part of this tradition and can be traced back even further in culinary history. One explanation for etymology of the word dolmeh is from the Turkish verbal noun  dolmak,  which means "to be stuffed." Makes sense.
In the Persian Empire, references of dolmeh are traced back to the 17th century and the courts of the Shah (king). According to Wikipedia, Alī-Akbar Khan Āšpaz-bāšī,  chef to the court of Nāṣer-al-Dīn Shah, recorded dolmeh as a special category of Persian cuisine and gave recipes for stuffing grape leaves, cabbage leaves, cucumbers, eggplants, apples, and quinces.
My beloved late Grandmother made dolmeh combining green stuffed peppers and stuffed cabbage leaves in a large pot. She used tomato sauce and the end result was delicious! This is a picture of the dolmeh she made for us when my mom and I visited her in 2009. Those beautiful hands made many lovely dishes for us on that trip. And they all had the common ingredient of love incorporated. Many of my cooking inspirations are connected to that trip. Since my family immigrated from Iran when I was a child, this was the only time I cooked with her as an adult and I cherished every moment.
It seems the popularity and timelessness of this dish, is due to it's simplicity. Stuff any vegetable with other vegetables, herbs and/or meat and you have a rich dish that satiates any palette.
I made my version of dolmeh for Nowruz (the Persian New Year) and they were a hit! The only dish with no leftovers and that says a lot for any meal in an Iranian home where abundance is the key ingredient to any feast.
It is a relatively easy recipe and quite healthy. You can make it meat-less by eliminating the ground turkey or chicken for a vegetarian option, nothing will be lost. The fresh herbs add such great flavor and aroma! Serve it up as a main or side dish and enjoy!
Ingredients:
10  bell peppers (multi color for visual effect)
1 lb. ground turkey or chicken (you can use beef too, I use chicken or turkey for a leaner option)
2 medium onions, chopped
1 1/4 cups basmati rice, rinsed
1/2 cup yellow split peas, rinsed
1 bunch parsley, chopped
2 small leeks, chopped
1 bunch of dill, chopped
3 1/2 tablespoons dried tarragon
2 tablespoons dried mint
2 teaspoons turmeric
2 lemons
2 tablespoons tomato paste
Olive oil
Water
Salt and pepper
Directions:
Gently cut the tops of the peppers and set "lids" aside.
Clean inside of peppers, remove seeds and white flesh
In a frying pan heat oil and saute onions until translucent.
Add ground turkey, turmeric and salt + p while browning the meat. Set aside. (I added a handful of the leeks and parsley while sauteing the meat this is optional but it's a nice way to build layers of flavor).
Cook rice and split peas in 3  cups of water and 2 tablespoons of olive oil for about 15-20 minutes. Drain water.
Chop all the herbs. The kitchen will smell amazing at this point!
Combine the turkey, rice, lentils, dried herbs, chopped fresh herbs, the juice of 1 lemon and salt and pepper in a large mixing bowl and mix all ingredients.
In a separate bowl, combine tomato paste, 1/2 cup of water, the juice of the other lemon, 2 table spoons of olive oil, salt + pepper.
Spoon the rice-herb mixture into the peppers. Don't fill to the top, leaving a bit of room at the top of the pepper.
Arrange the peppers into a deep baking dish.
Pour approximately 1/2 of the tomato mixture into the peppers. Pour the rest into the pan creating a small shallow pool for the peppers. Cover with pepper "lids."
Bake for 50-60 minutes in the over at 350-375 degrees until pepper are cooked and tops are slightly browned. While baking, check to see if you need to add water in the pan if it has all evaporated. Don't add too much water to avoid peppers getting soggy.
Serve and enjoy! As part of a feast like we did for Nowruz or on its own for a healthy week night family dinner.