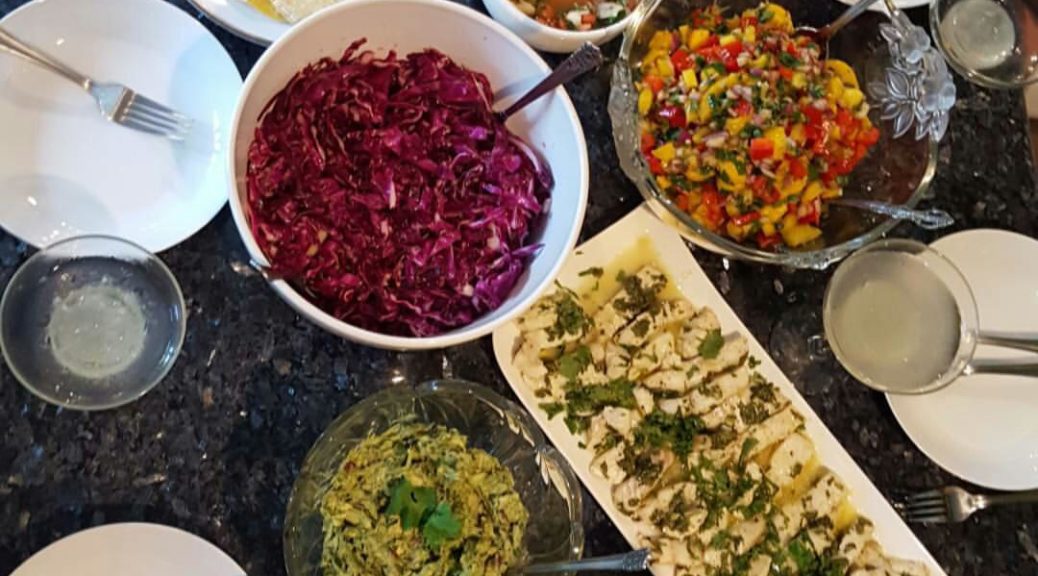 Mama's Mexican Fiesta
Mama's Mexican Fiesta
My beautiful Mother Edna is one of my greatest inspirations- in life and in the kitchen. In life she is and always has been an incandescent source of light + love and my rock. In the kitchen, she is a creative genius. Cooking with my Mother has always been a pure source of joy for me and I have learned much from her over the years. She makes amazing dishes and somehow manages to always keep it healthy yet interesting. She is the master of creating Persian dishes, but balances that with new and modern recipes. There is never a dull moment in Edna's Kitchen and thanks to her, many lovely meals have been enjoyed in our family Home.
Much like in Italian culture, in a Persian family you show people how much you love them with food. Combine that with the generous magnanimity of the graciousness of Persian hospitality and every gathering becomes magical. I grew up in a home in which my parents embraced that sentiment along with a deep passion to make the people we love happy by bringing them together and hosting beautiful meals. The pots and pans in that kitchen are exhausted! I can't tell you how much work and effort they've been a part of over the years. I love these pots… so many meals, so many trips to the market, so many onions peeled, so many glasses of wine filled… so many memories, so much hard work and ultimately, so much love.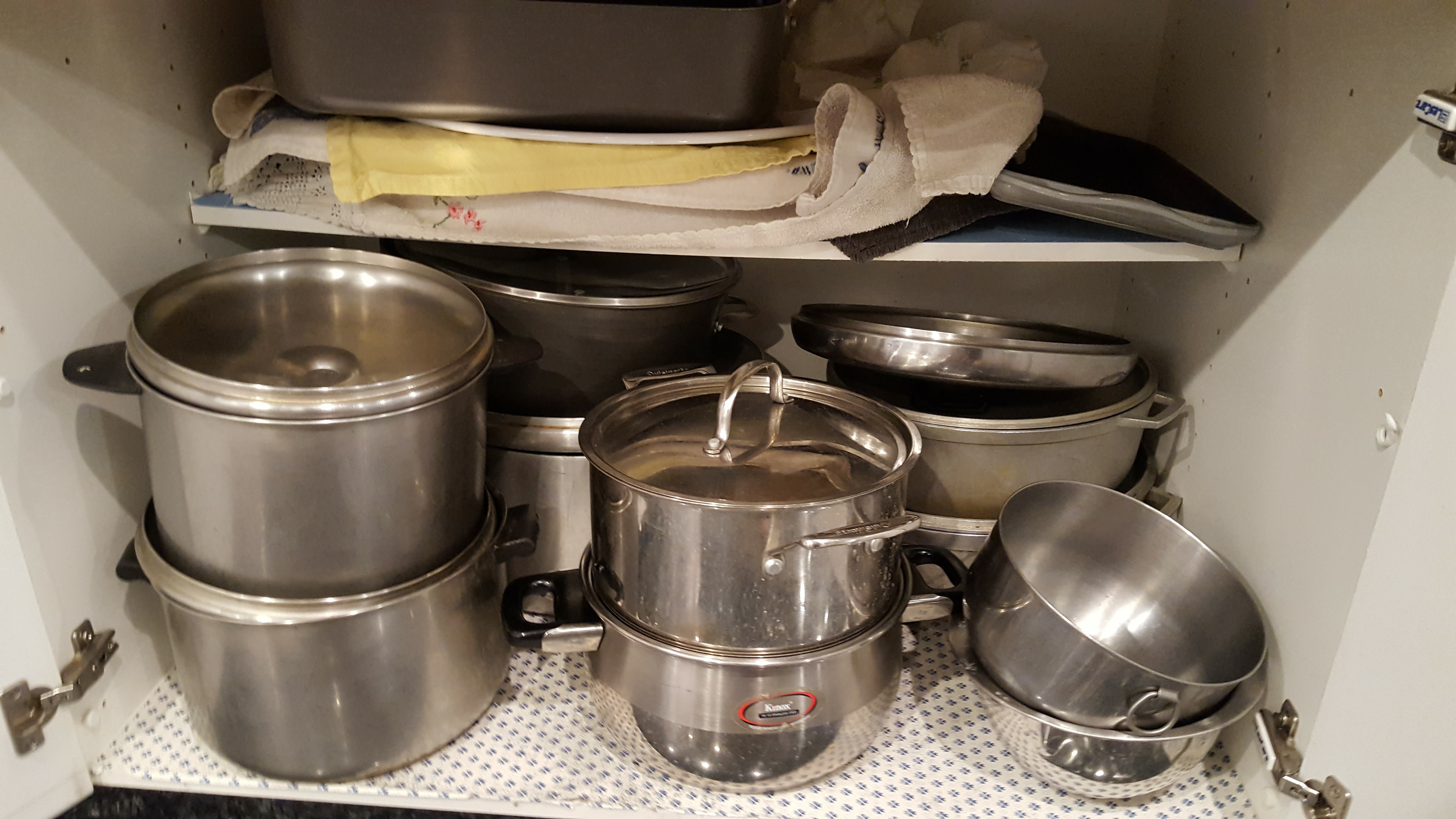 One of many cabinets filled with heavy duty pots and pans. More than kitchen utensils, they have been the vessels through which Mom's beautiful cooking has messenger-ed her love for gatherings, people, family and friendship.
Given her exceptional skills in the department, our Mom (whom we adoringly call Duda) is usually cooking for us. On rare special occasions, I get to cook for her. This past Mother's day was one of those special days. And in true Duda character of originality and unpredictability- she asked for Fish Tacos! When Mama asks for a Mexican Fiesta, she gets the best Fiesta! In this post I share with you the fun menu we enjoyed. It's not an easy task, but Duda was pleased. Not only with the fish tacos, but also with sharing another delightful meal with her family, in her kitchen of pots, memories and laughter.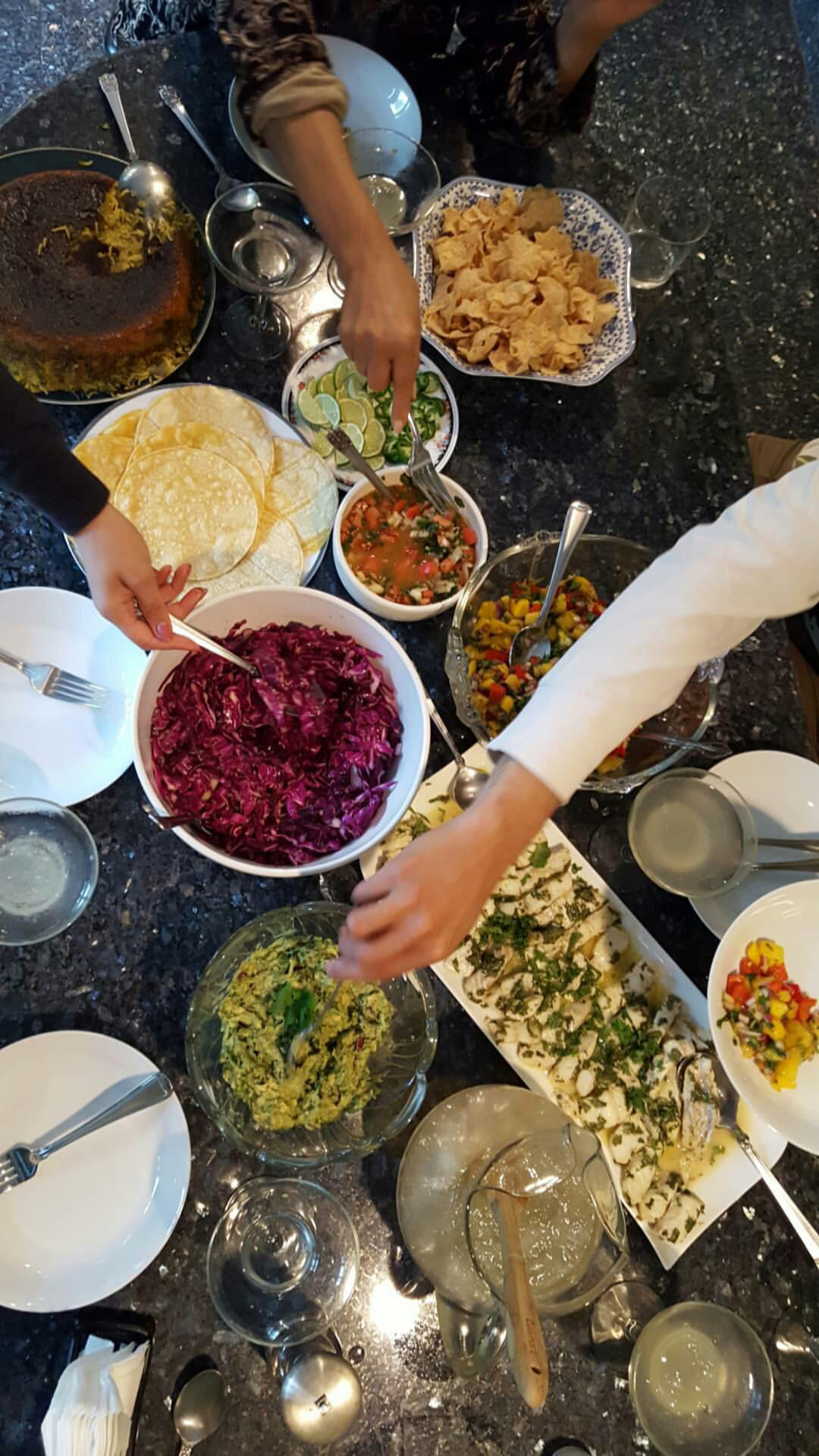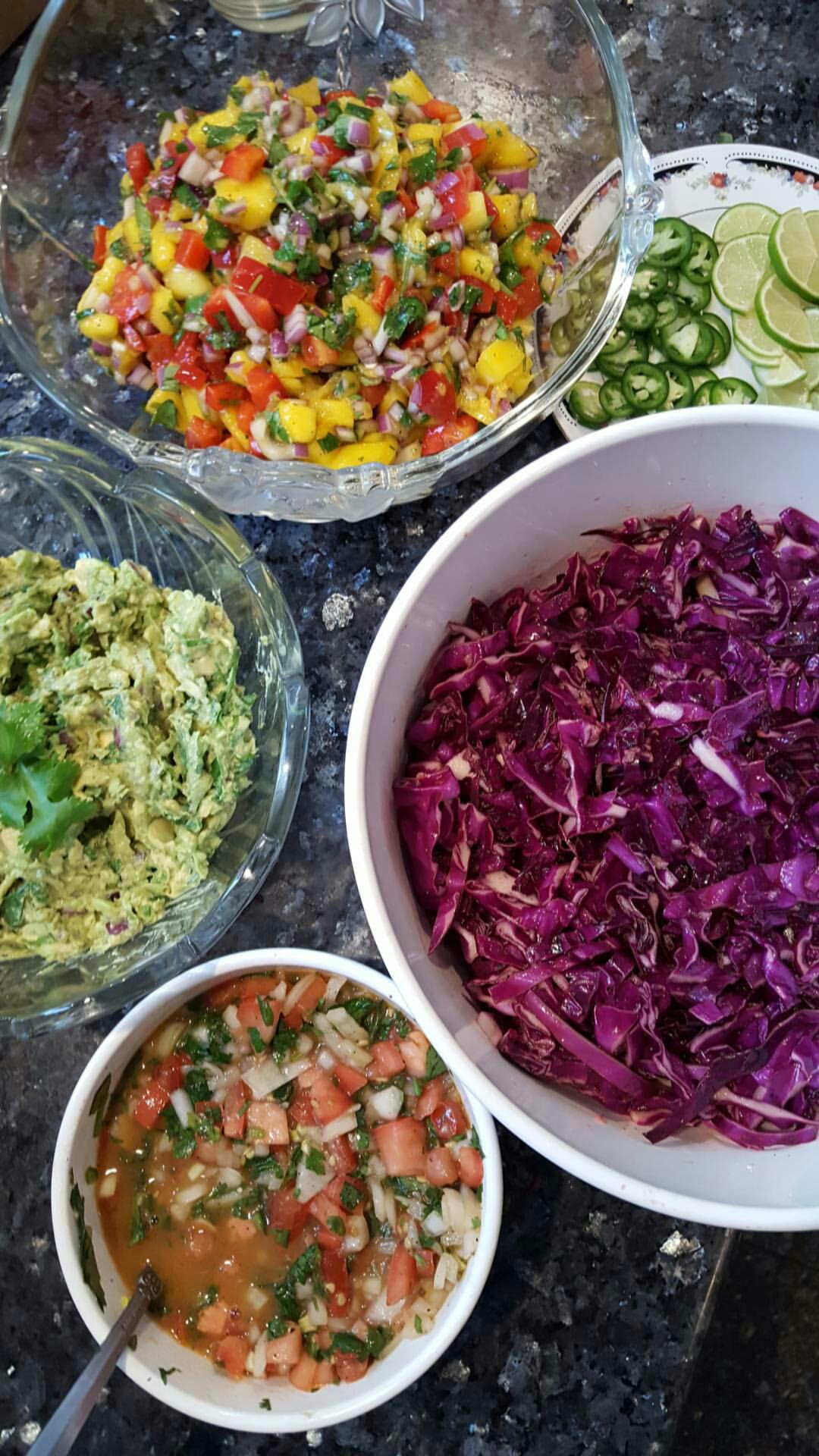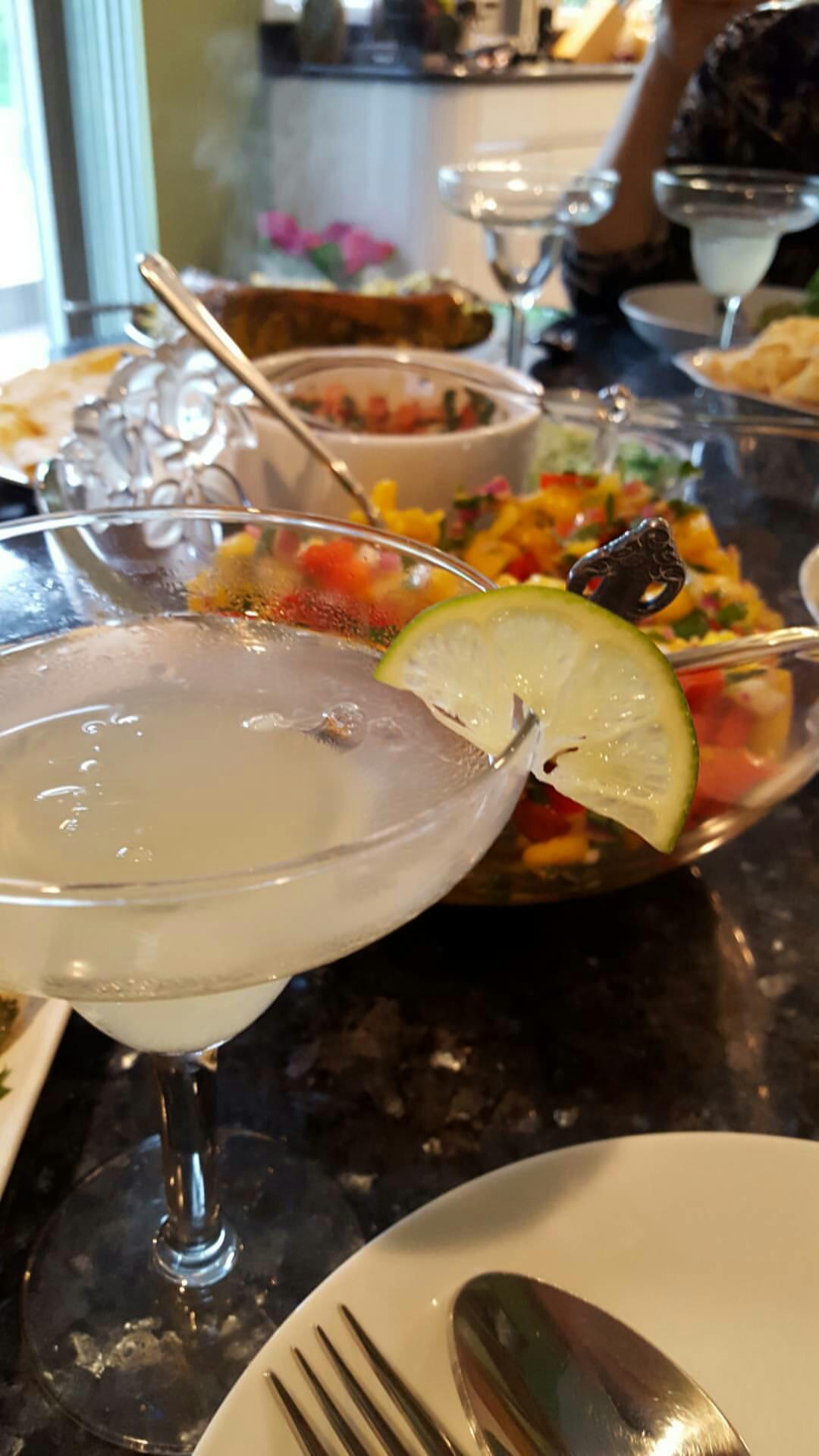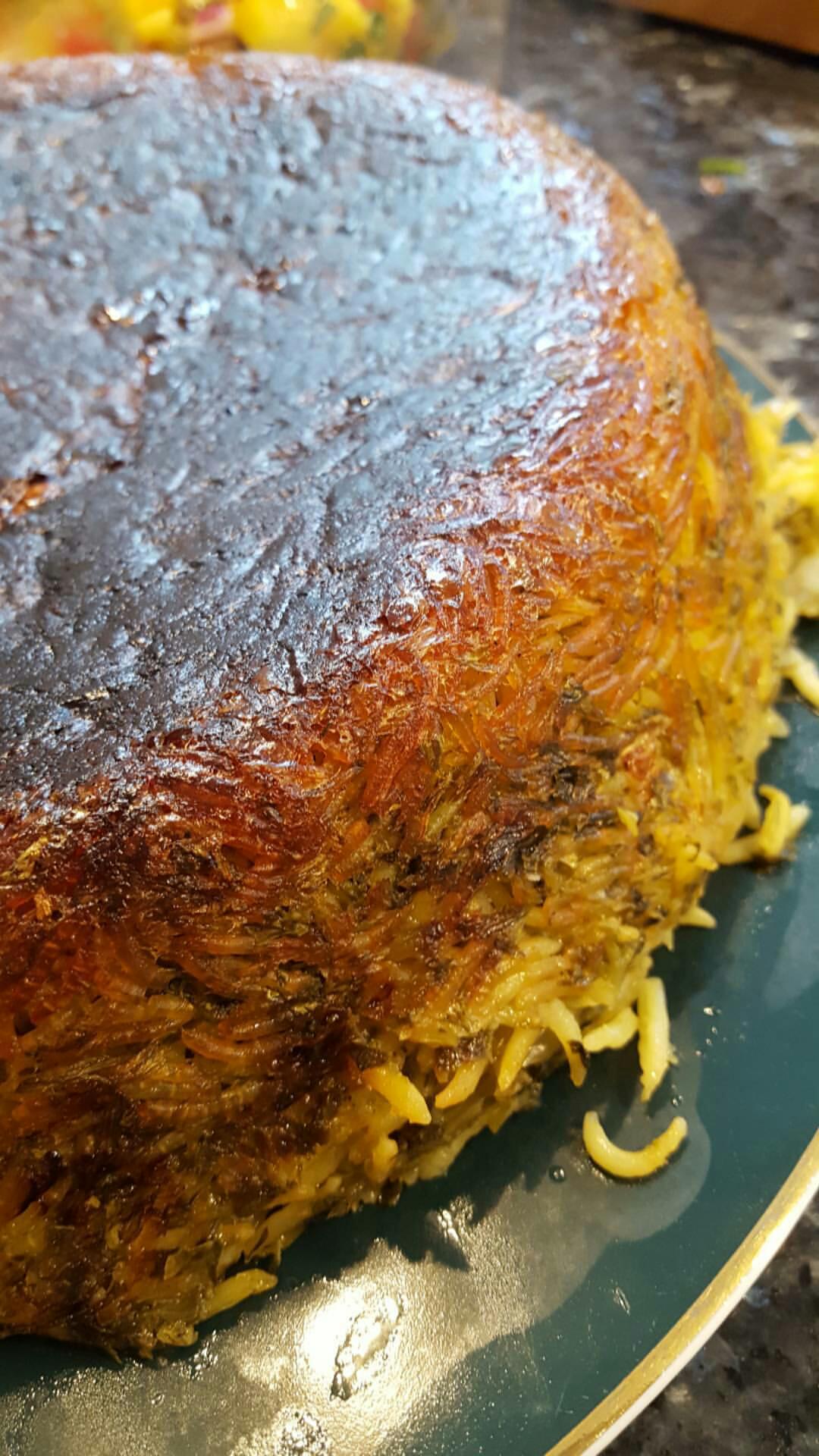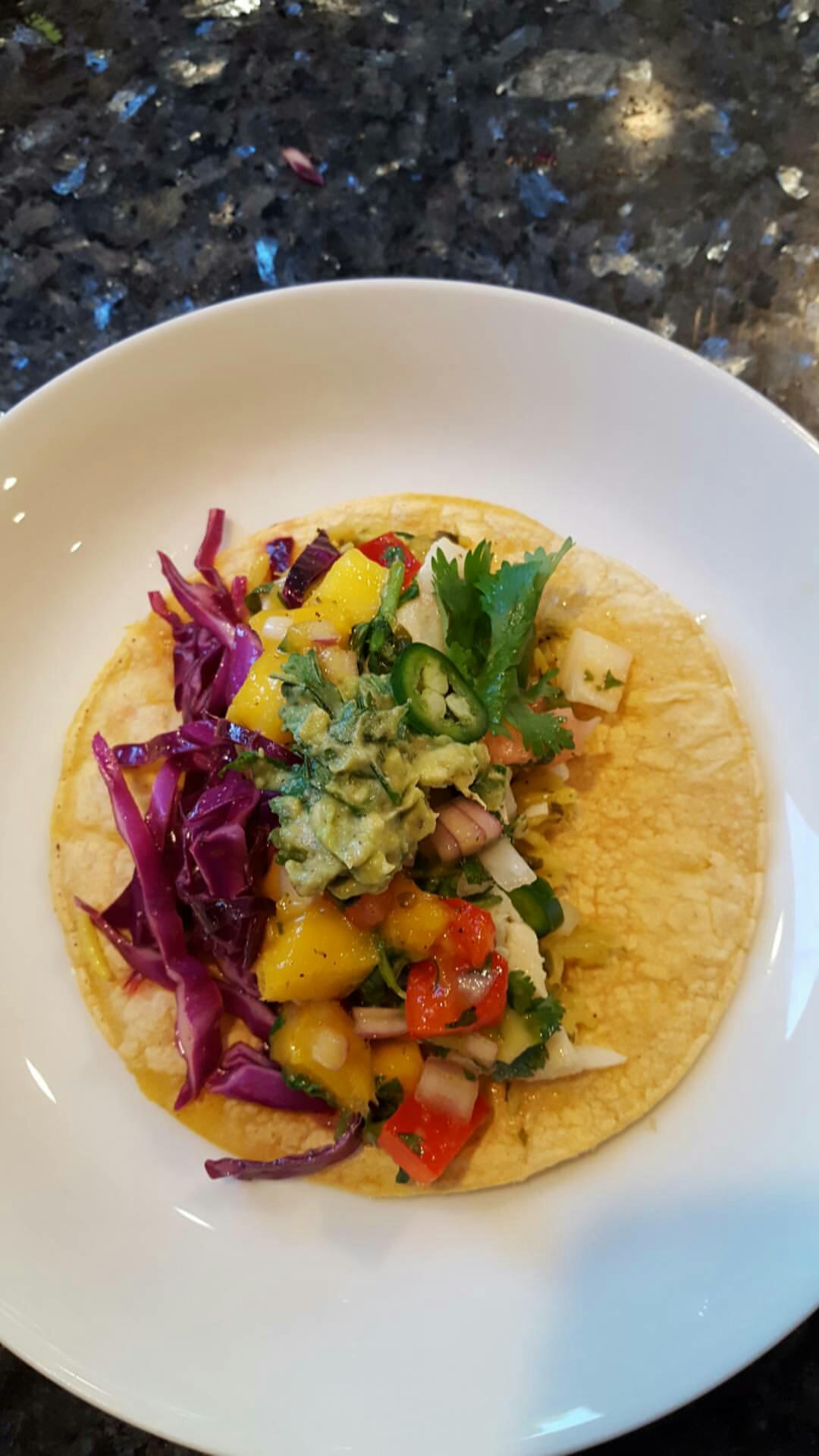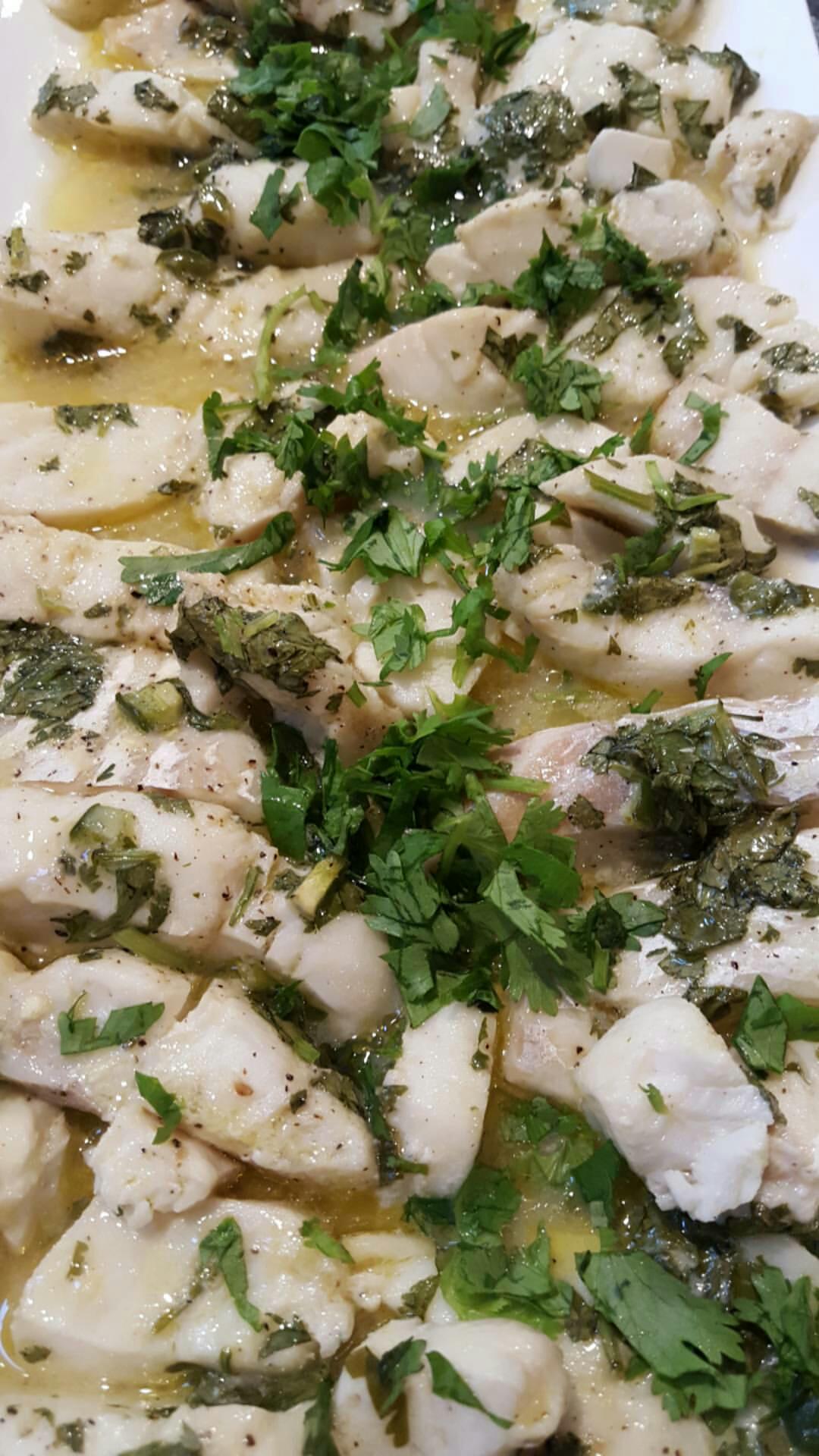 Fish tacos, how we love them so… truly one of my favorite things to eat. I enjoy indulging in crispy fried versions once in a while, but in general prefer a healthier baked or grilled version. With the immense flavor of this tequila-lime recipe nothing will be lost, promise! There is just something so gratifying about a good fish taco. All you need is a white flaky fish, a zesty salsa with a kick, guacamole, a crunchy slaw and of course a nice amount of citrus and spice and everything nice!
My family loved this recipe and I hope you enjoy it too. With summer just beginning, this is the perfect dish to make for warm afternoons in the backyard served with a refreshing margarita!
¡Buen apetito!
Ingredients:
1 lb. wild-caught Cod fish
1 cup tequila
1/2 lime juice
3/4 cup olive oil
1 cup cilantro, chopped
1/2 of one jalapeno, chopped (remove veins/seeds for less heat)
salt + pepper
8 small corn or flour tortillas
Directions:
Cut fish into smallish pieces (approx 3-4 inches long).
Make the marinade by combining tequila, lime juice, olive oil, cilantro and jalapeno, S+P in a bowel.
This smells amazing! The alcohol burns off during cooking but the tequila flavor is awesome!
Place fish in the marinade and cover. Let sit for 30 minutes to 1 hour.
In the mean time, you can make the fun accompaniments for the tacos.
Once marinaded, place in preheated oven of 325 degrees F.
Bake for approximately 20 minutes.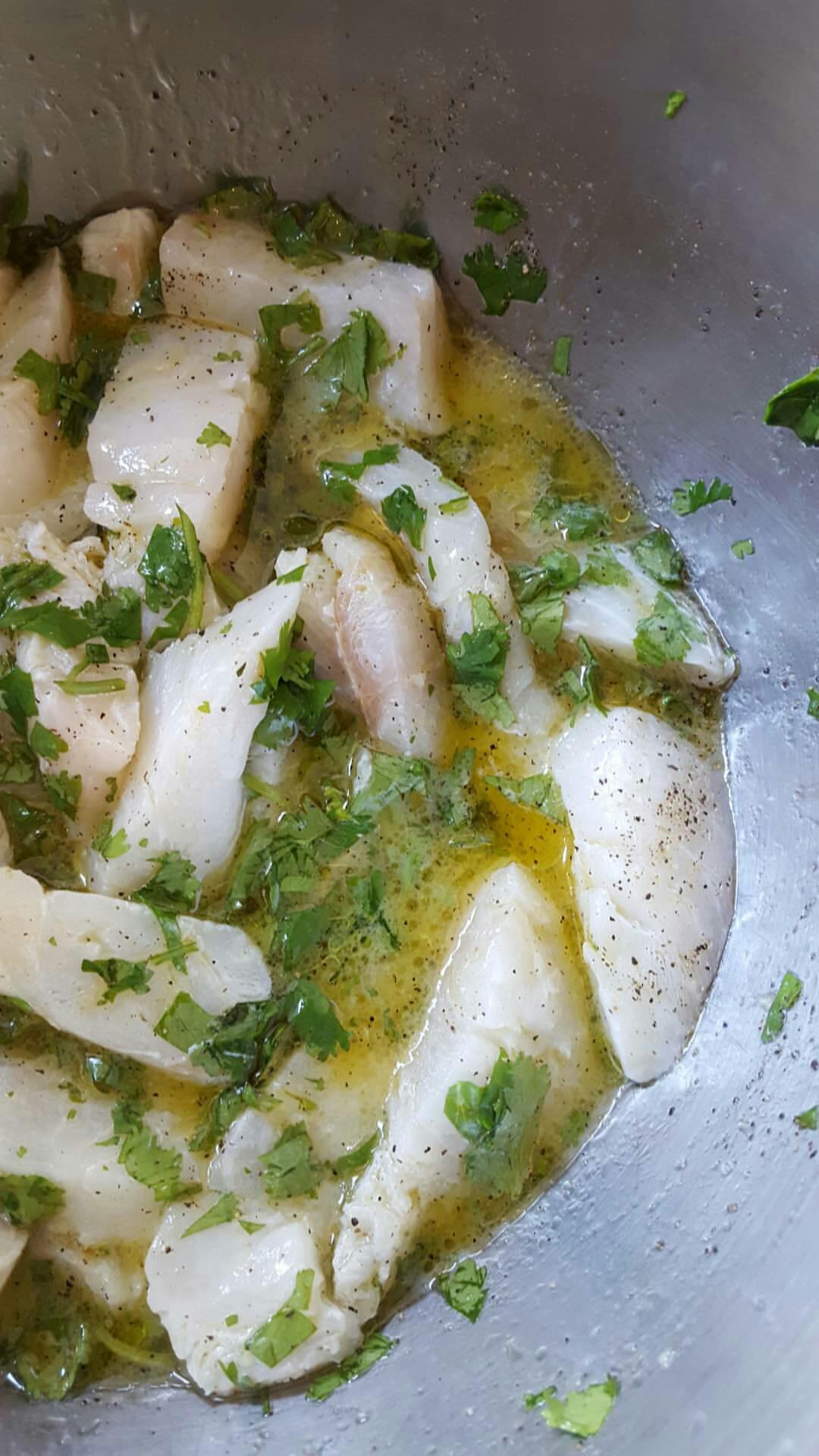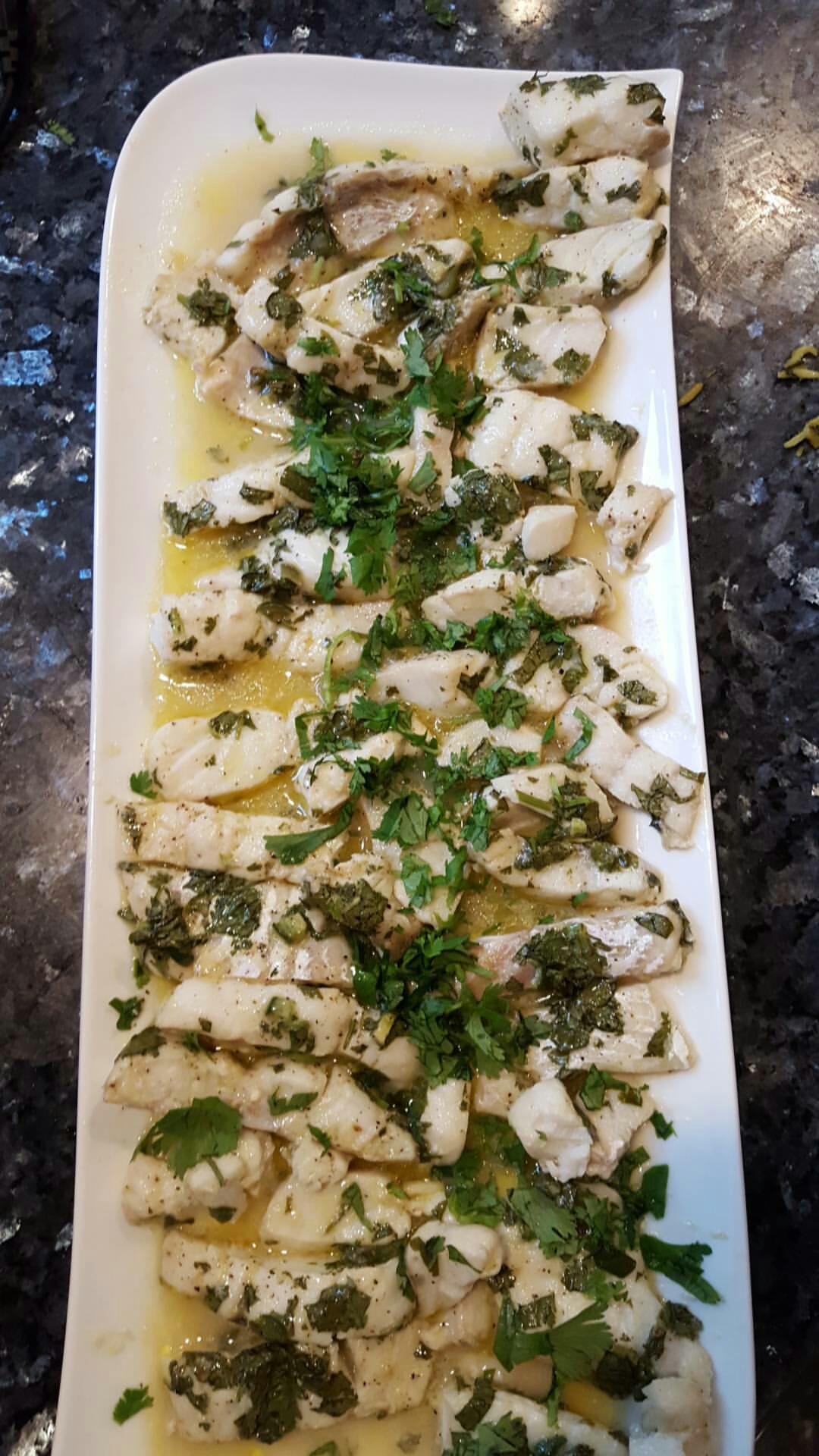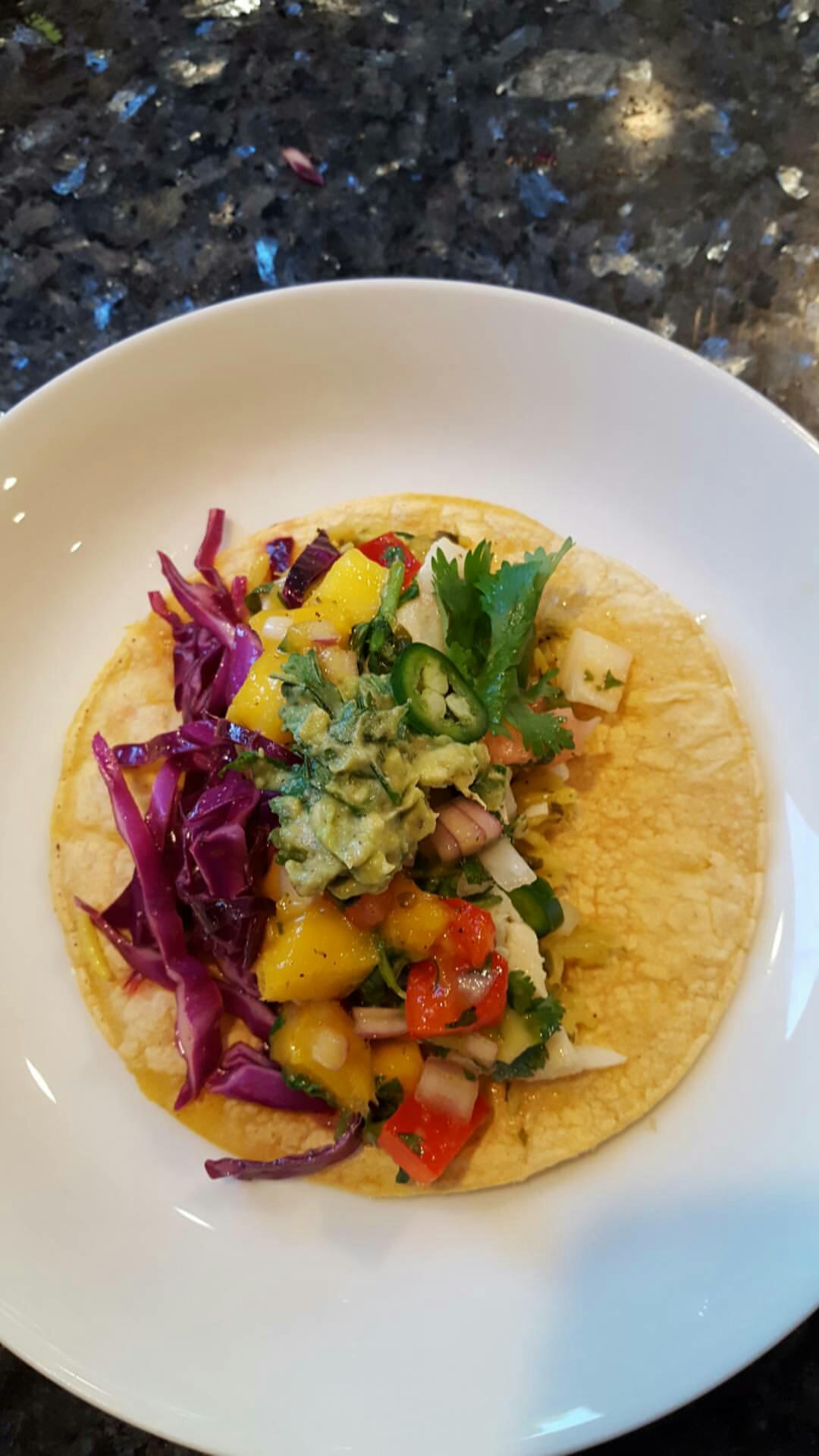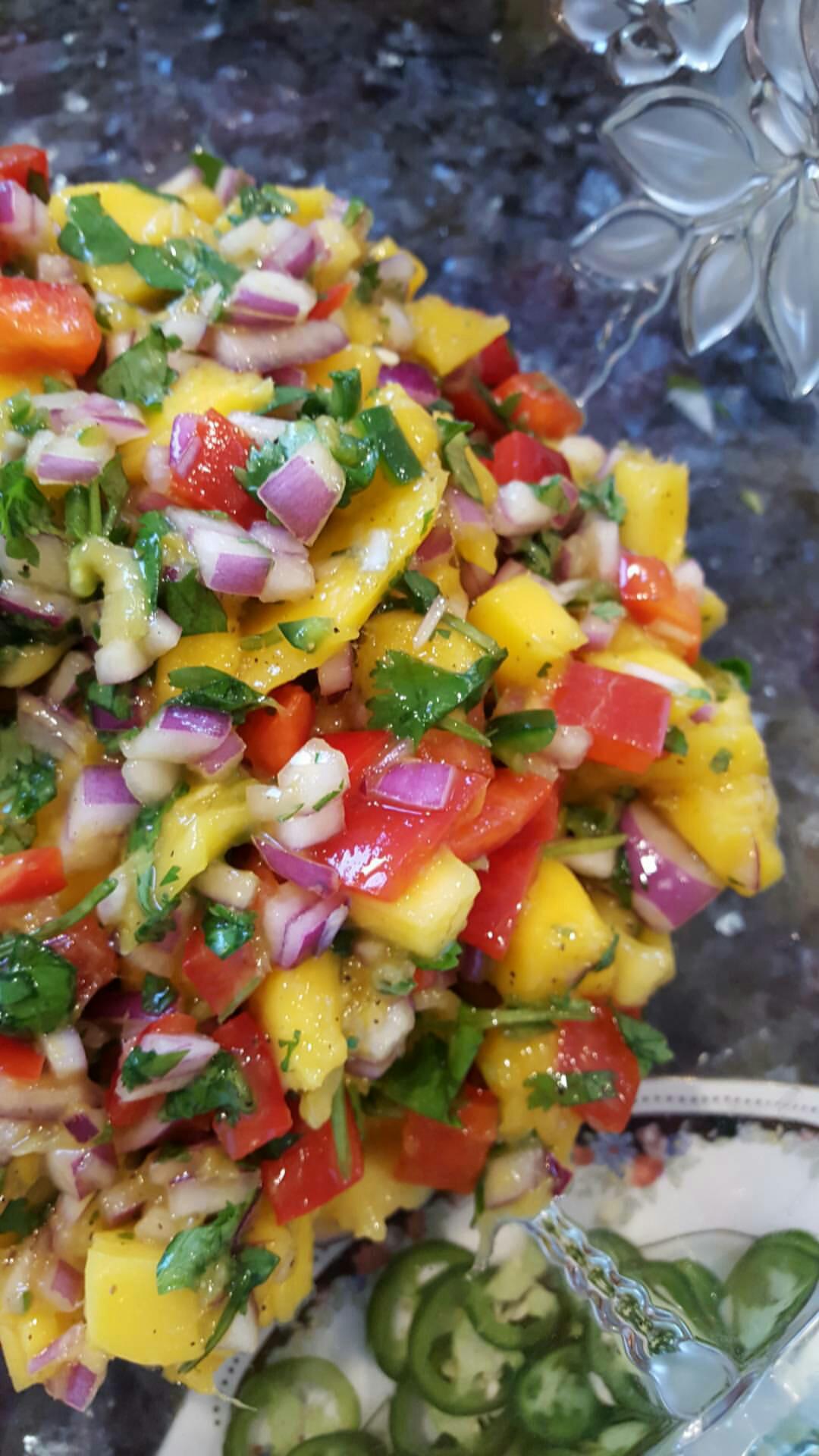 This colorful salsa is fun to make, fun to eat and a feast on the eyes! The gorgeous colors make the table festive and the sweet and sour flavors are explosive! Great on fish tacos or as a dip.
Ingredients:
4 large and ripe mango, chopped
1/2 of one jalapeno, chopped (remove veins/seeds for less heat)
1 red bell pepper, chopped
1 red onion, finely chopped
2/3 cup cilantro, chopped
3 tablespoons lime (adjust to taste)
3 tablespoons olive oil
Tortilla chips to scoop up all this flavor (I used these Tostitos Multigrain Scoops), they handle the chunky salsa well.
Salt + Pepper
Directions:
Combine cubed/chopped mango, red pepper, red onion and jalapeno.
Add cilantro, olive oil, lime juice, salt + pepper. Adjust to taste based on preference.
Fold gently to combine ingredients together.
Enjoy this savory, sweet and sour delight!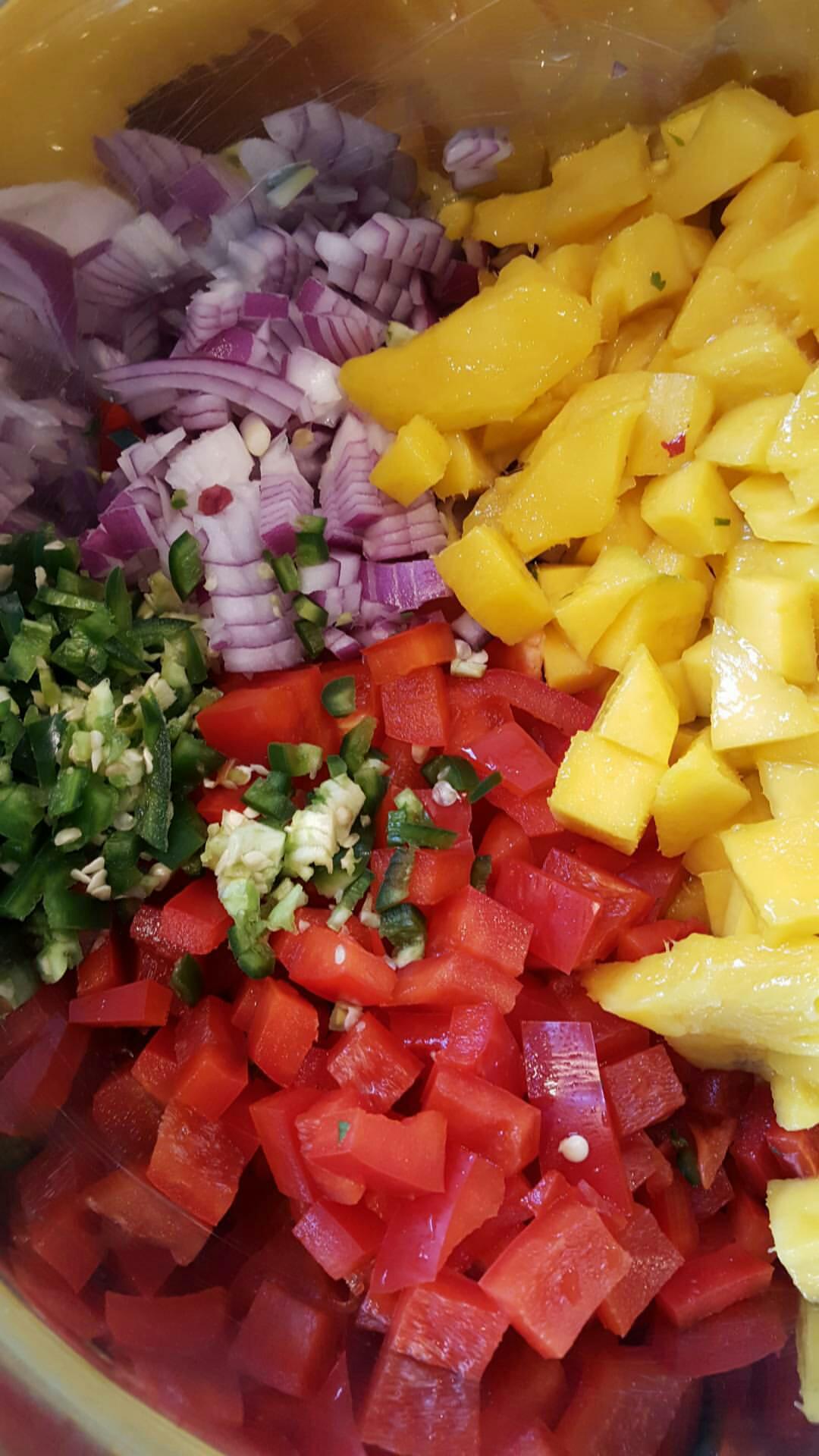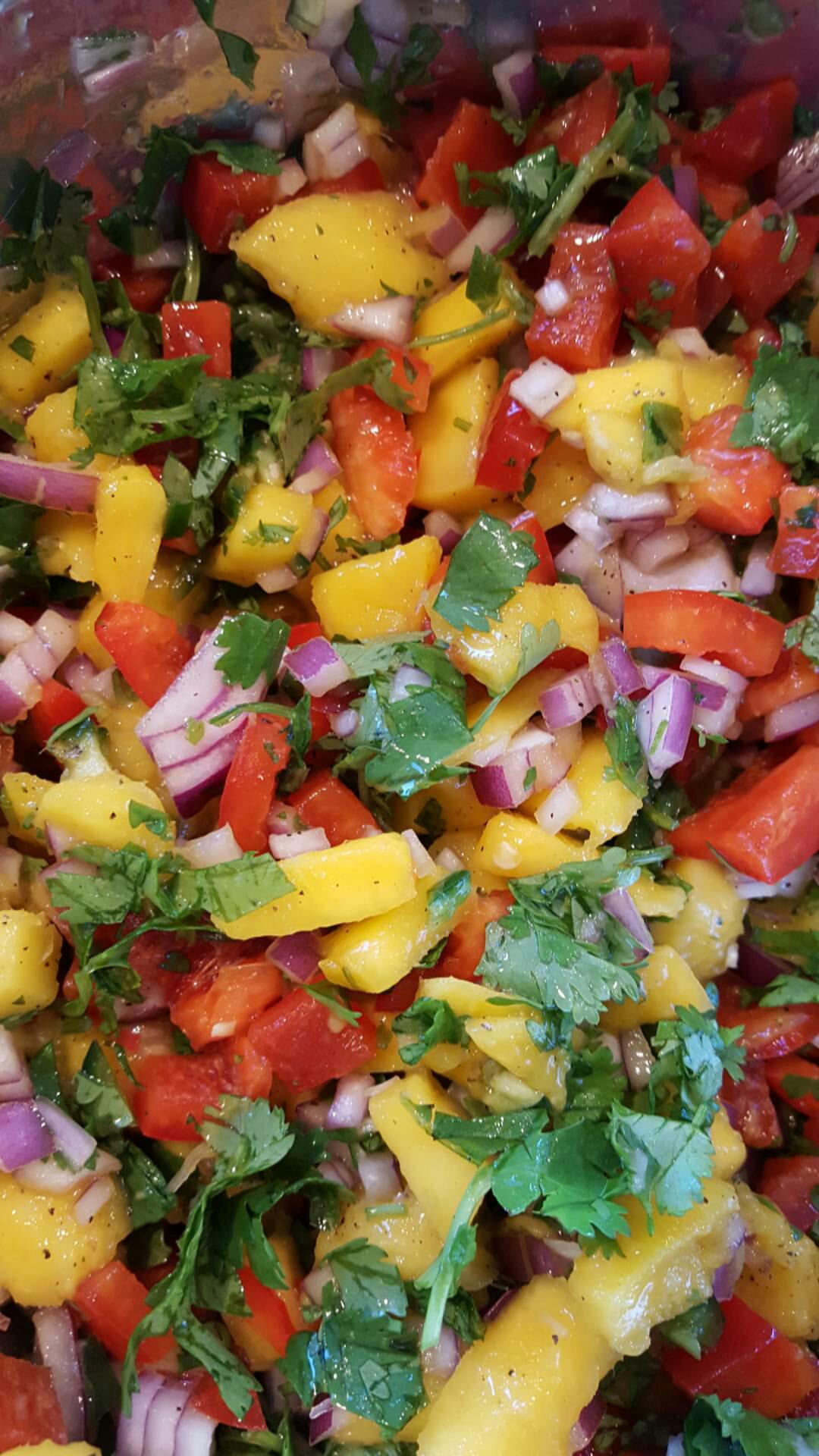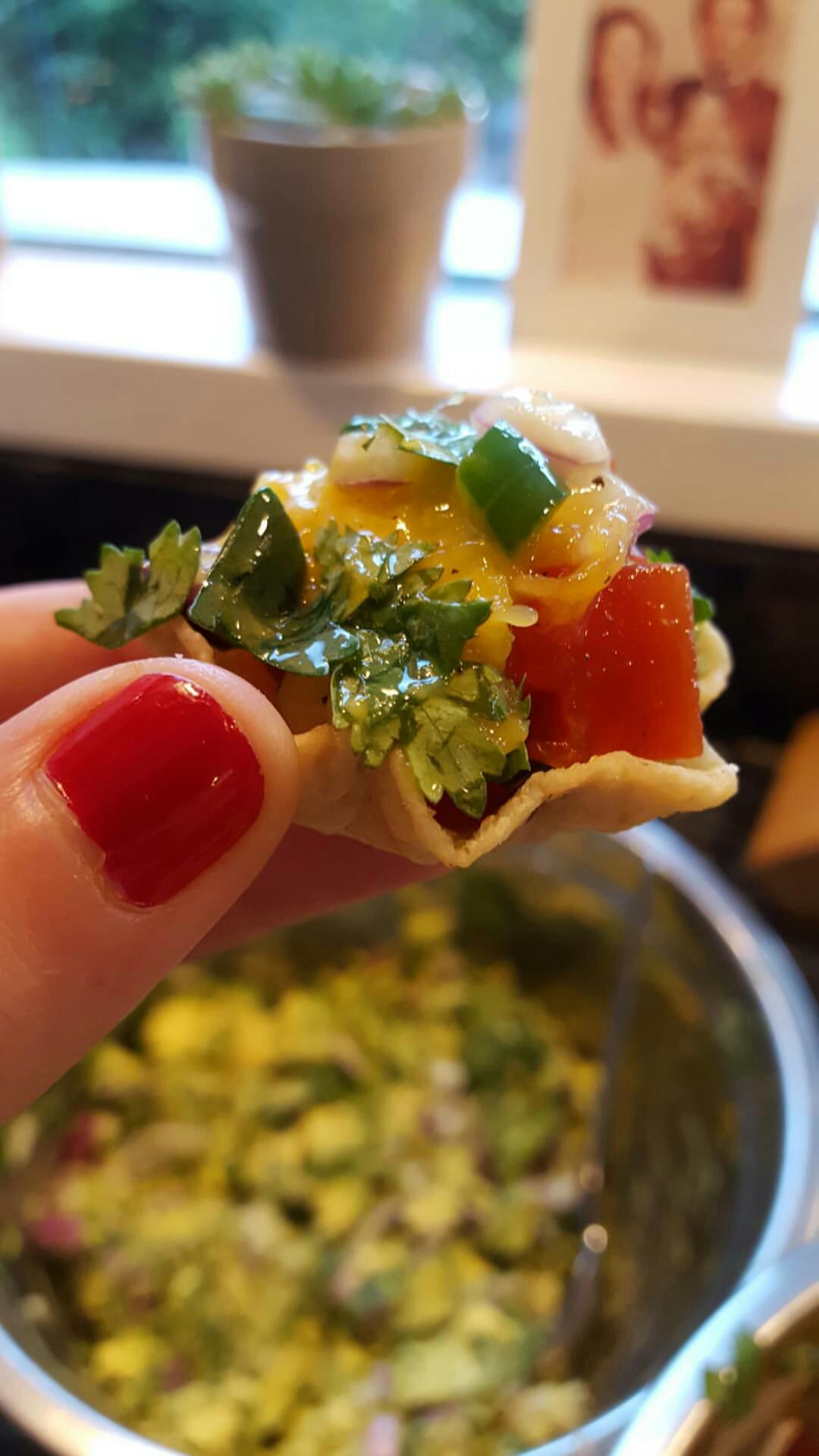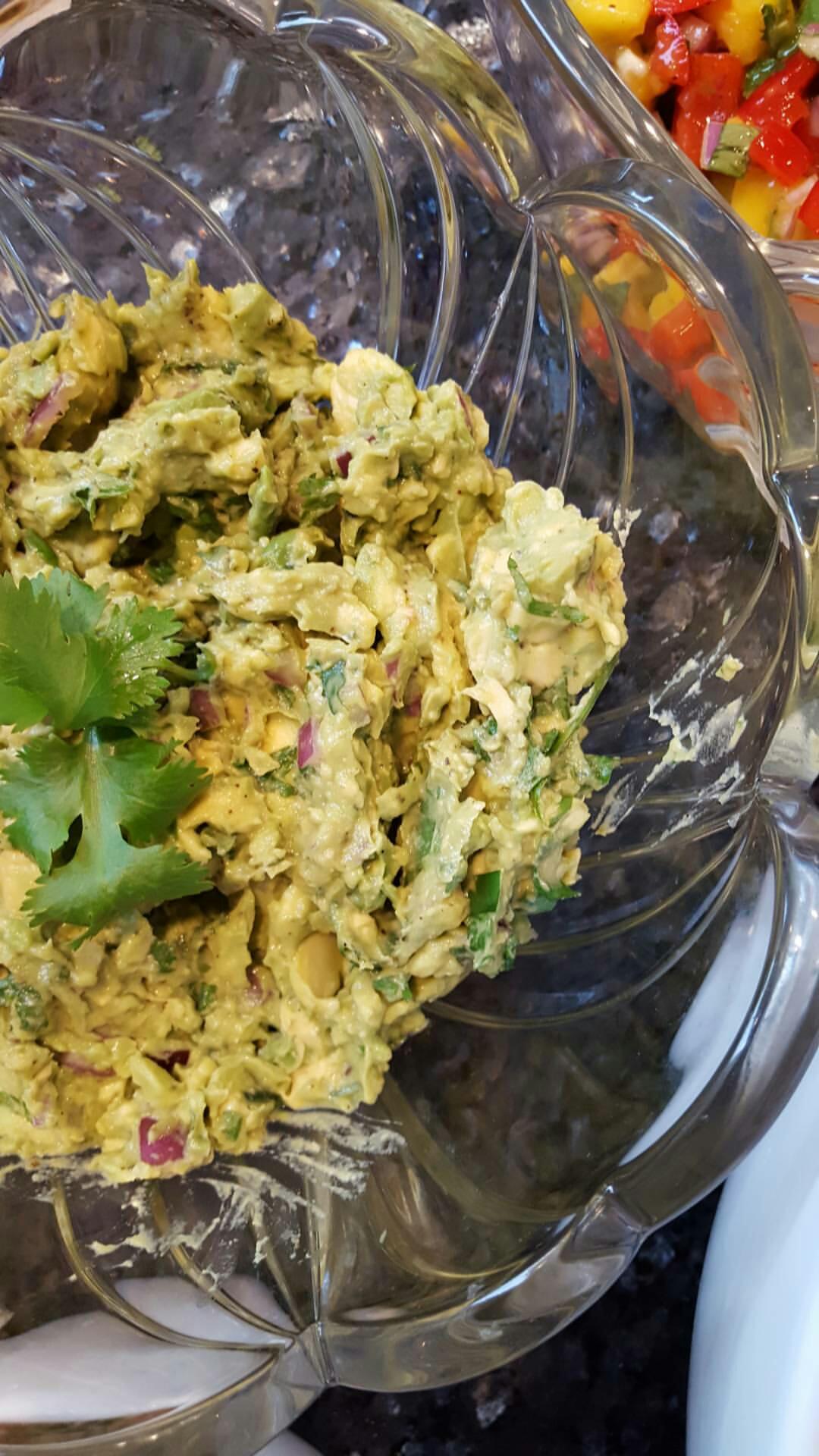 I think avocado is the most magnificent fruits in the world! It is rich, creamy, earthy, nutty, and savory. Avocados also have great health benefits. The list is long but to name a few they are high in potassium, good fats and they are one of the few high protein fruits. I love it's creamy texture and use it as a substitute for butter or oils often. And of course, nowhere is the beautiful avocado highlighted more than in a classic guacamole! I don't use garlic or tomato's in my recipe, but feel free to add them if it makes you happy…
P.S. This recipe also works really well for avocado toast. It's excellent on toasted sourdough bread with a couple of slices of tomato and a pinch of sea salt. Yum!
Ingredients:
4 avocados
1 cup cilantro, chopped
1/2 of one jalapeno, chopped (remove veins/seeds for less heat)
1/2 medium red onion, chopped
3 tablespoons lime juice (adjust to taste)
Salt + Pepper
Directions:
Cut avocado into cubes, slightly mash it in a bowl. I like to leave it a bit chunky.
Add chopped cilantro, jalapeno, onion, lime juice, salt + pepper and mix.
Adjust salt and pepper levels to taste.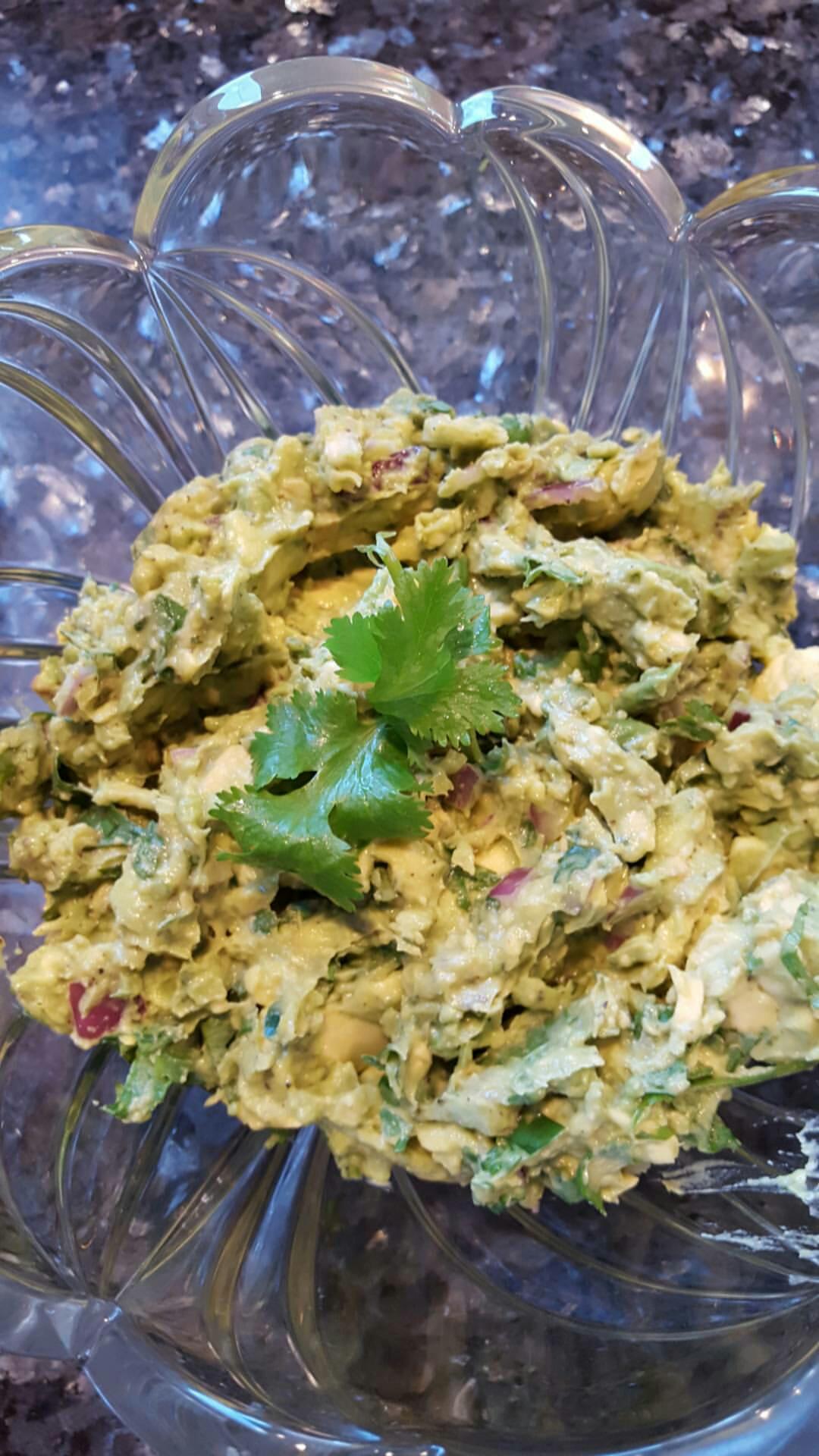 Salsa Fresco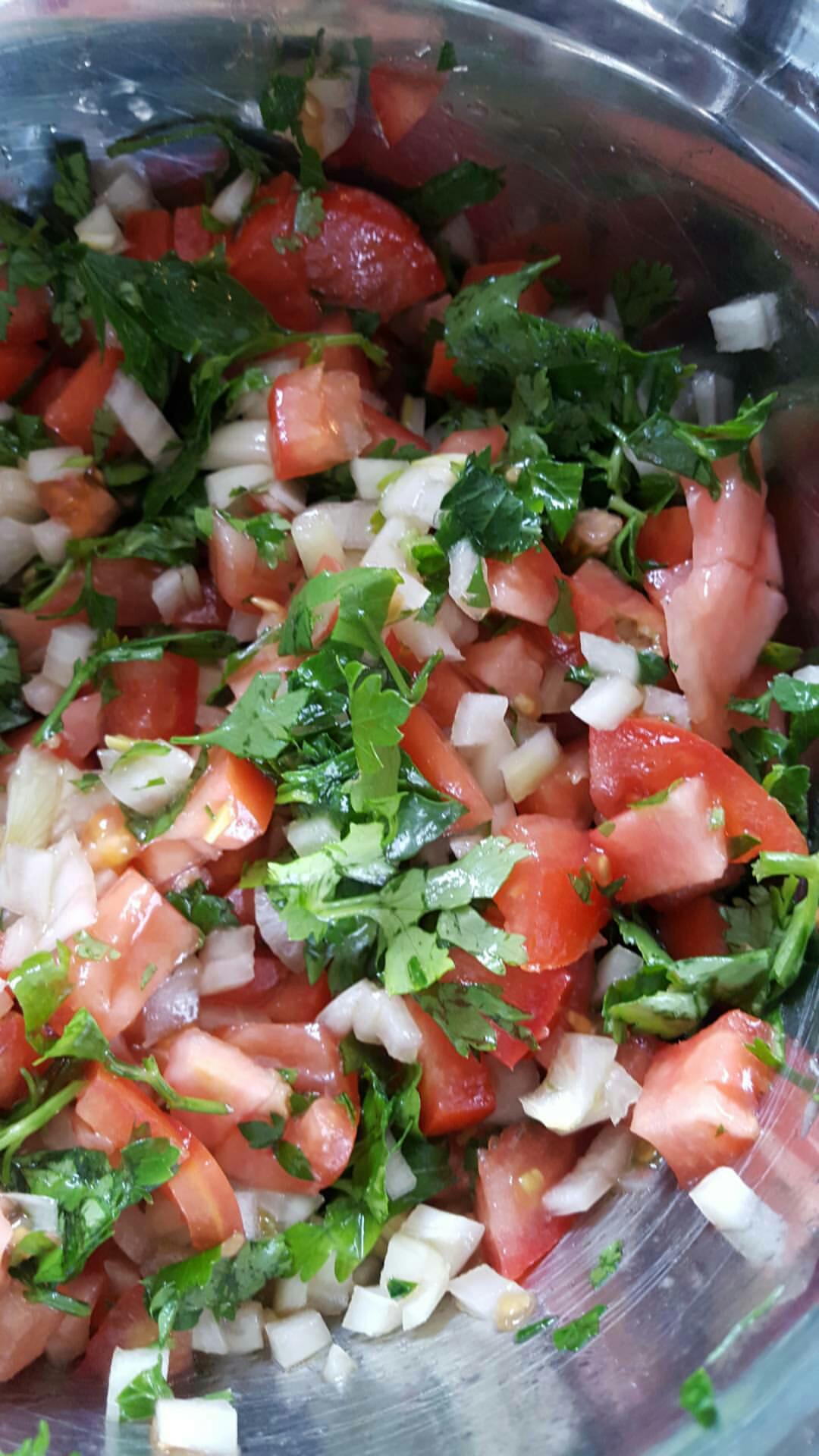 Forget store-bought salsa and with a few simple steps make your own tasty Salsa Fresca!
In Spanish, pico de gallo literally means the "beek of the rooster." An internet search led me to several colorful explanations for the etymology of the term, but mostly urban legends and no definitive answer. According to Wikipedia "in Mexico it is sometimes called salsa mexicana (Mexican sauce). Because the colors of the red tomato, white onion, green chili are reminiscent of the colors of the Mexican flag, it is also sometimes called salsa bandera (flag sauce)." So there you go.
Now, let's make some yummy flag sauce! This is a party favorite to be enjoyed as a dip with chips, and it ends up being great on tacos, nachos, burritos, grilled chicken… and so on.
Ingredients:
4-5 medium tomatoes, chopped
1 medium white onion, chopped
1/2 cup fresh parsley, chopped
1/2 cup fresh cilantro, chopped
3 tablespoons lime juice (adjust to taste)
3 tablespoons olive oil
Salt + Pepper to taste
Directions:
Chop tomato, onion, jalapeno, parsley and cilantro.
Combine ingredients in a bowl and add lime juice, olive, S+P.
Taste the salsa while you are mixing. Adjust lime or salt based on your personal preference.
I like to start light and add if needed.
Enjoy with tortilla chips while you're making the meal, but leave some for the fish tacos!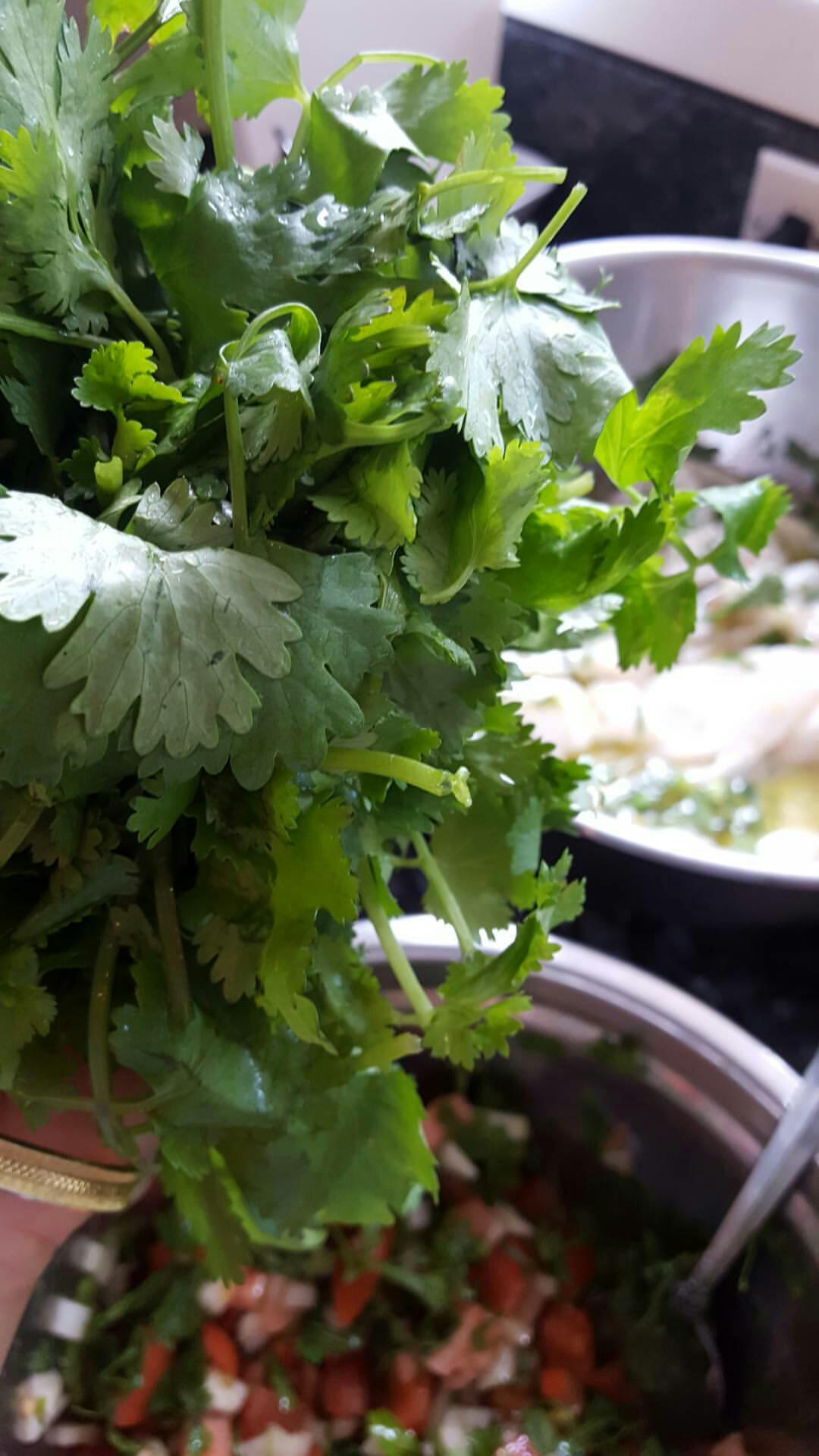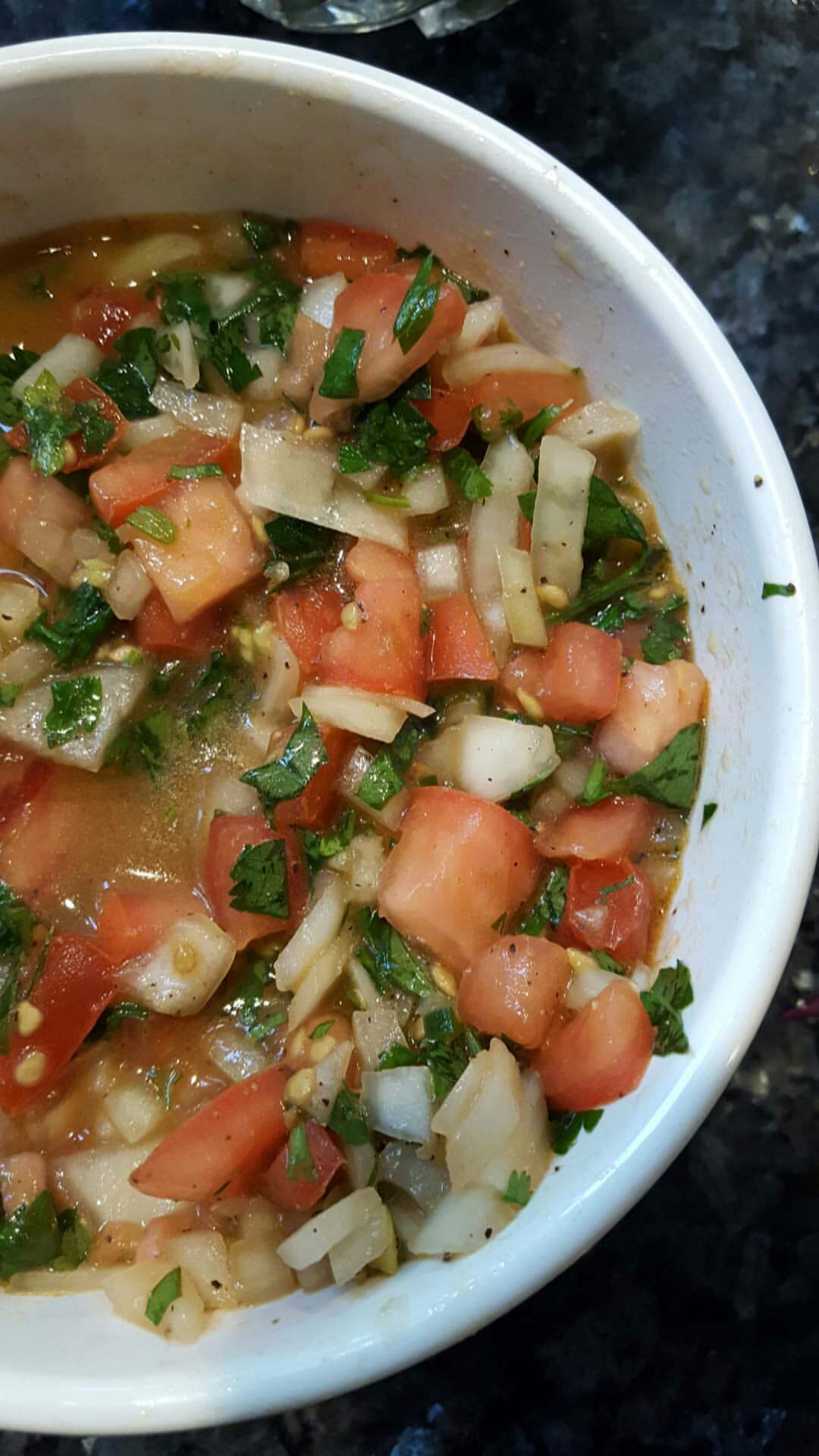 This was the first time I made this and it ended up being great. I love using red cabbage for it's beautiful color, slightly bitter and peppery flavor and many health benefit- Vitamin C, A, K and dietary fiber to name a few. It adds a nice crunch to the otherwise soft textured fish taco and marinated in a honey-lime-cumin vinaigrette it became a great addition to our fiesta!
In case you're wondering, it's called "Azi's Slaw" because my beautiful sister Azadeh was a big help in the recipe testing of this dish. She has always been a dream sous chef, putting up with my colorful antics in the kitchen… Thanks, Sis!
Ingredients:
1 whole red cabbage, cut into quarters and sliced into ribbons
For the vinaigrette-
1/2 cup olive oil
1/3 cup lime juice
2 garlic cloves, mashed with the side of a knife
2 teaspoons cumin (plus a pinch just because I LOVE cumin!)
1 teaspoon paprika (smoked paprika is even better if you have it)
1 teaspoon salt
1 teaspoon black pepper
Directions:
Combine lime juice, garlic, cumin, paprika in a mixing bowl.
Slowly add olive oil as you whisk dressing together.
Adding oil slowly while whisking helps emulsify the dressing so it won't separate (science, baby!).
Add salt + pepper to taste as  you go along, adjust as needed.
Add dressing to cabbage and mix well.
Let sit for 20-30 minutes. It gets better after it sits for a while.
*It was even better the next day when we had the leftovers with chicken.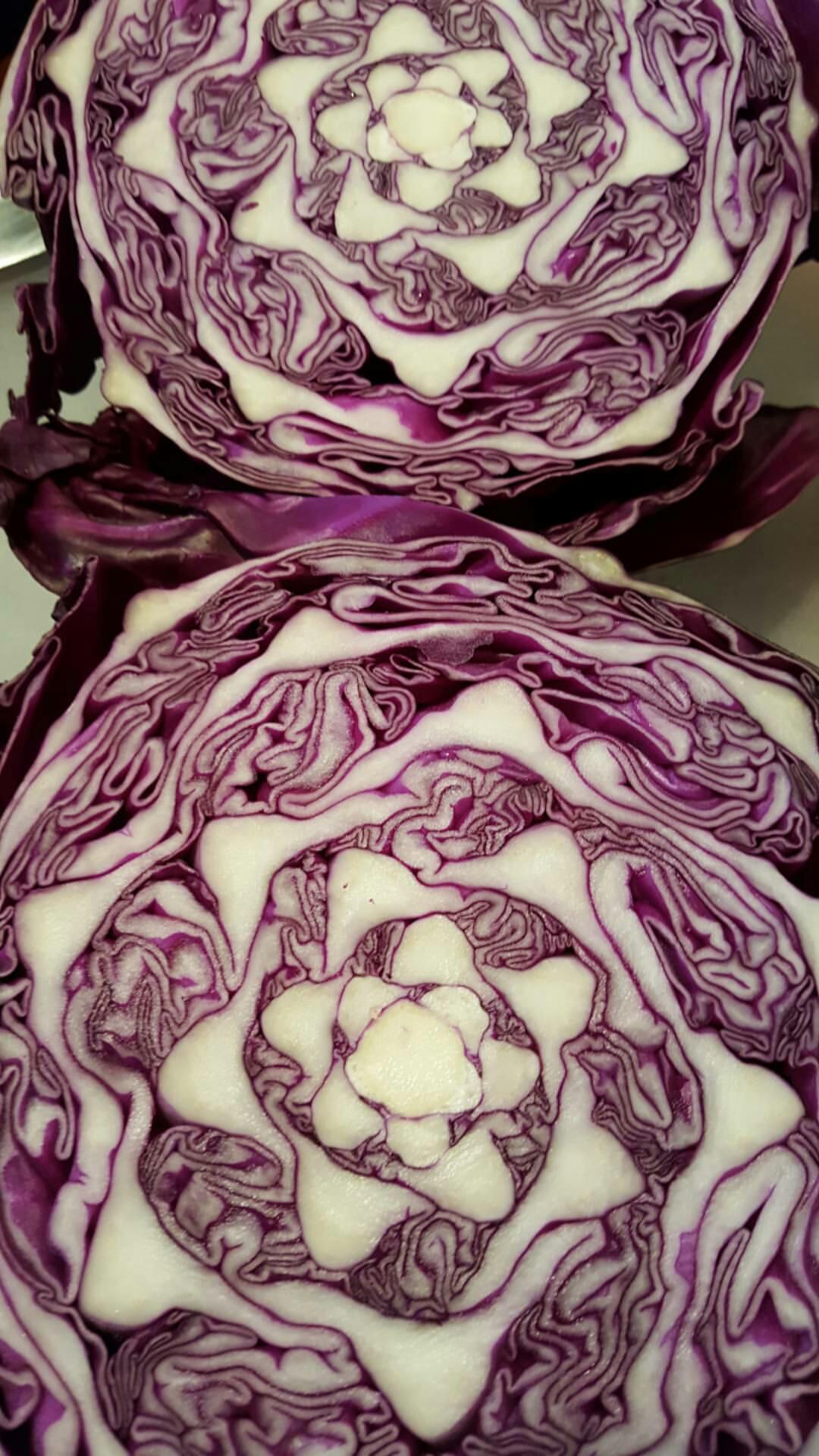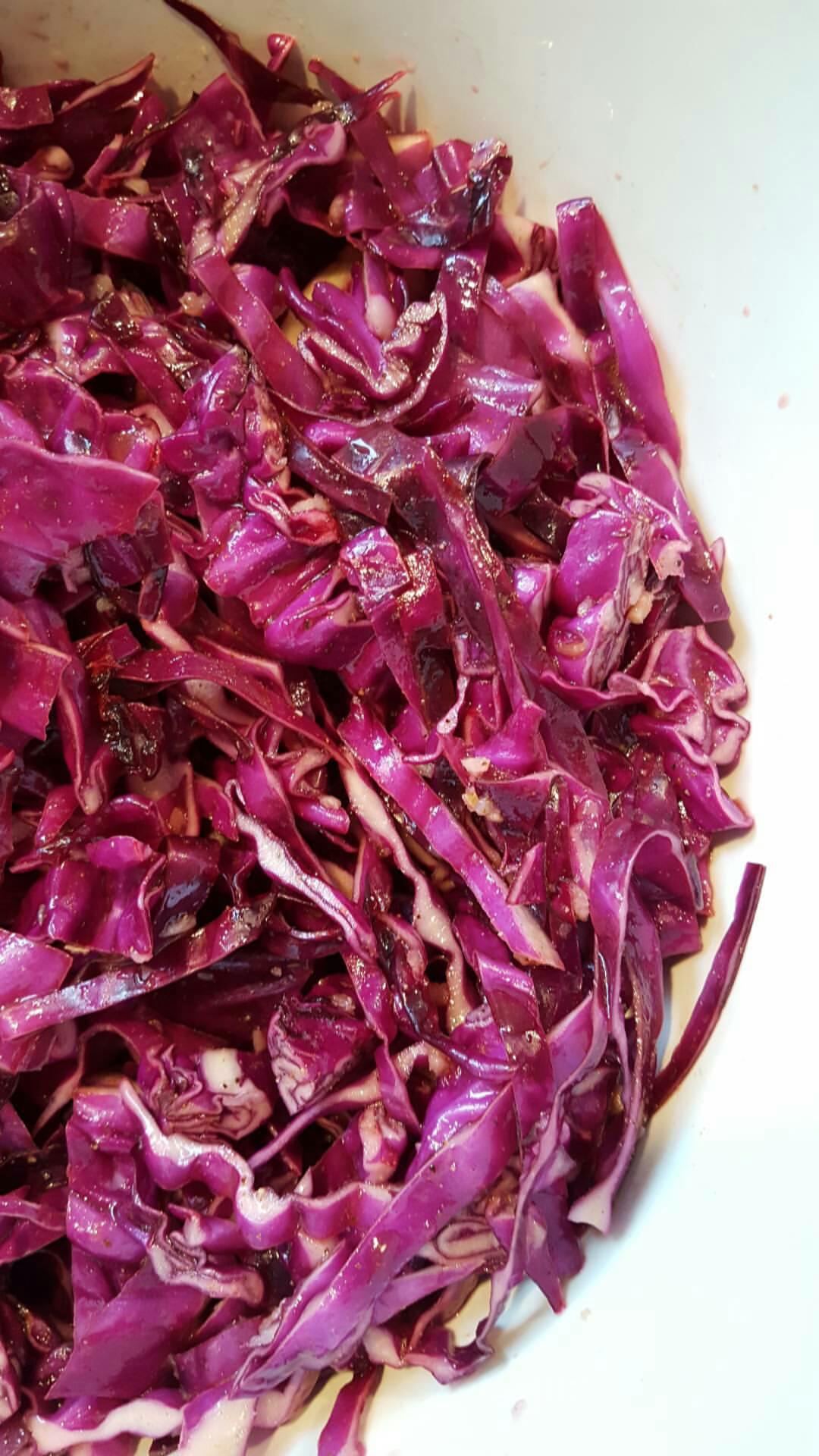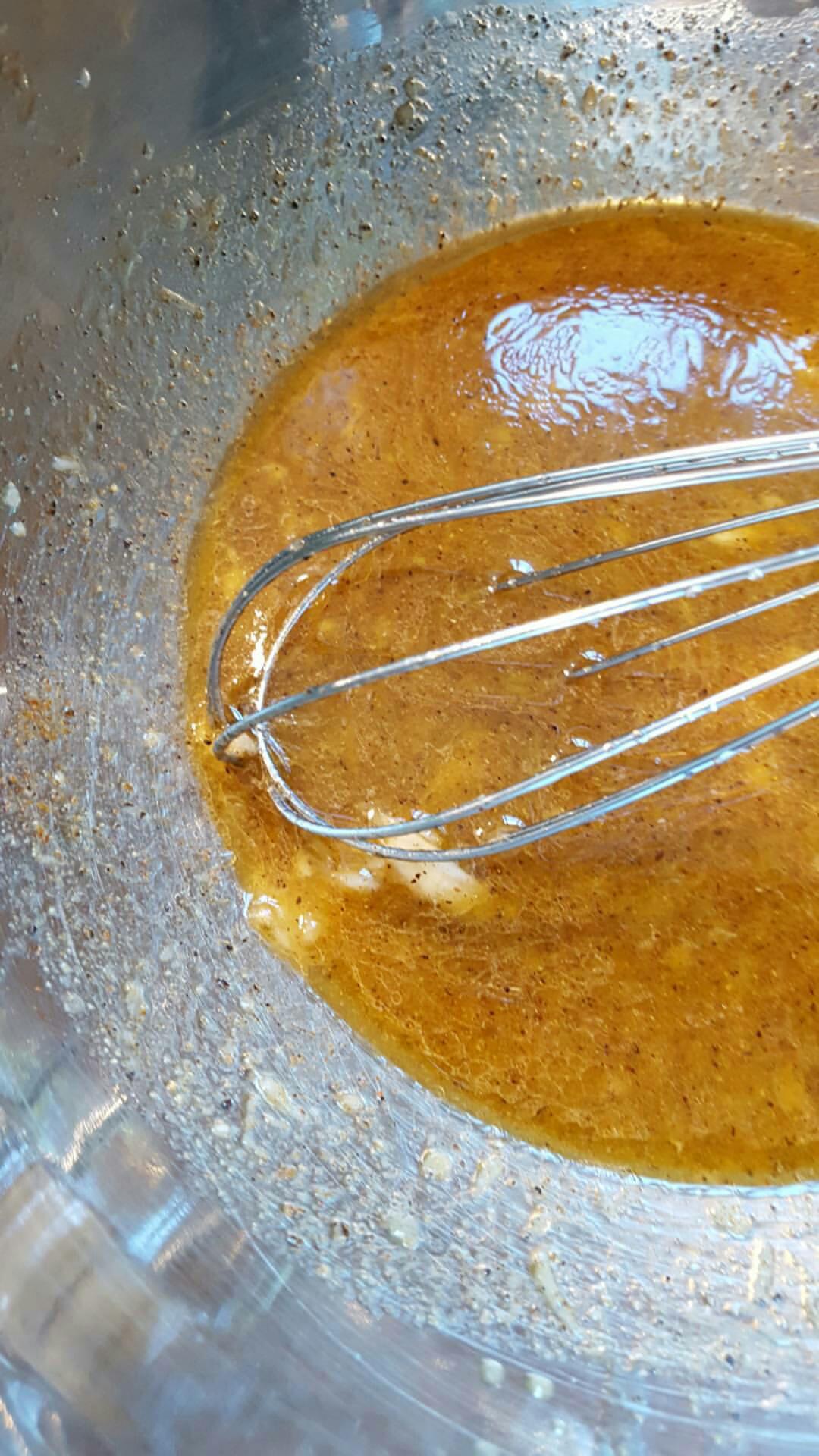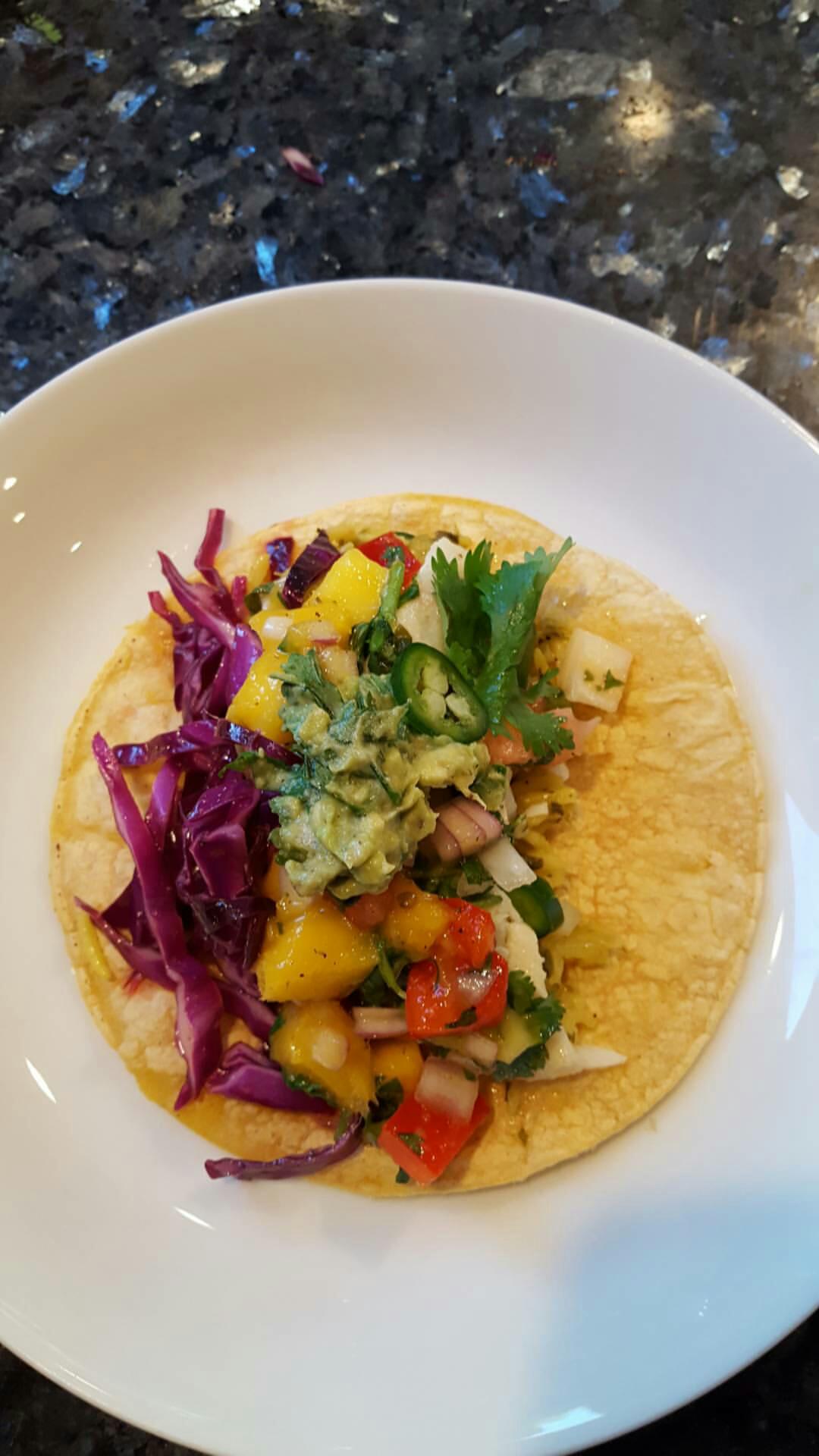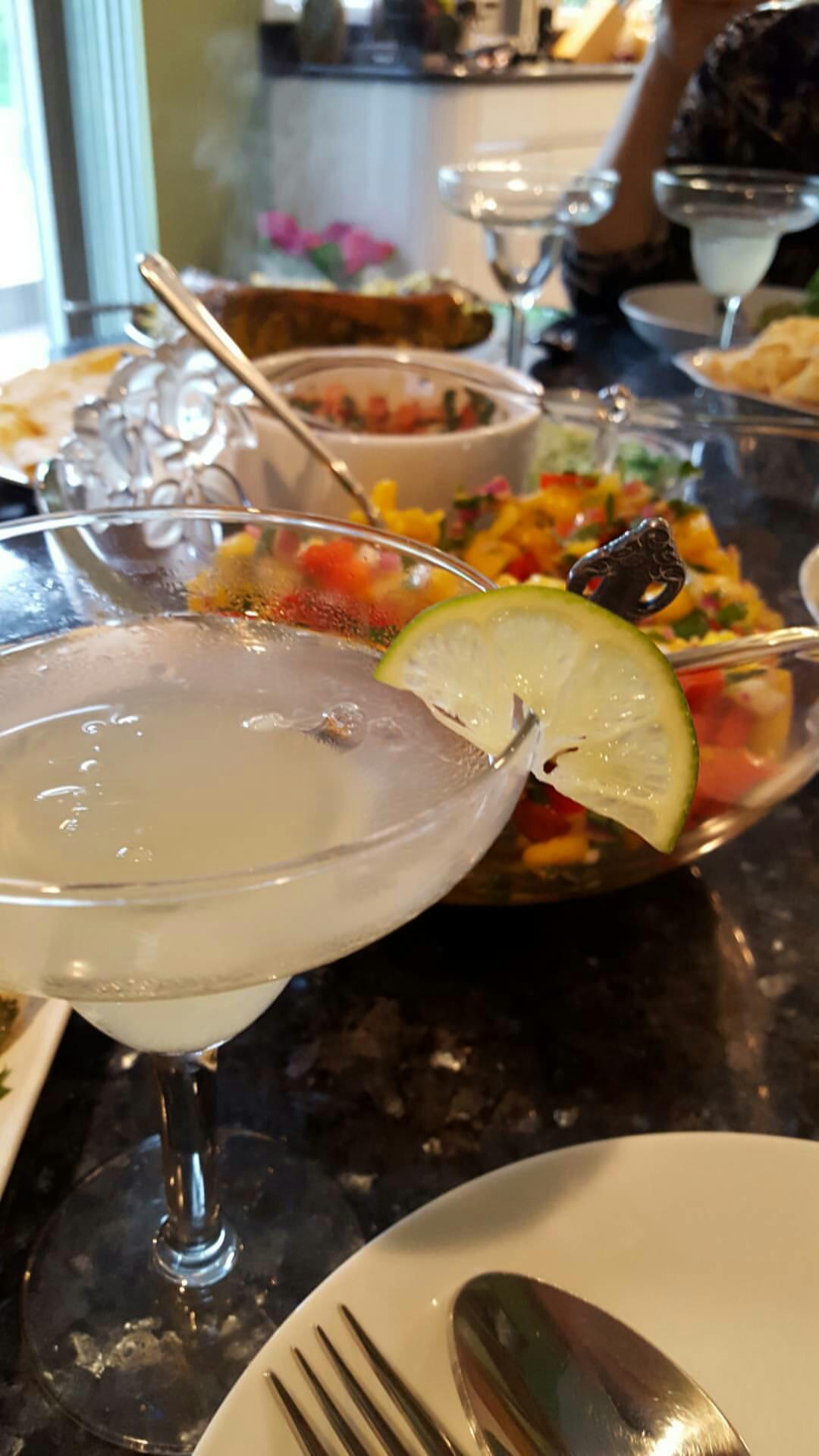 Who doesn't love a citrusy fresh margarita! A natural addition to our Mexican themed celebration but also a fun drink to make all summer long for those hot weekend afternoons to enjoy with chips and dip and friends.
Skip the high sugar content margarita mixes and make this fresh version at home. You can either use agave nectar, honey or make a simple syrup in minutes. I usually use agave nectar, but since this was a celebration we indulged a bit by using sugar. No biggie, everything in moderation! Just combine 1/2 cup sugar in 1 cup water in a saucepan and cook on medium heat until sugar dissolves. It only takes a few minutes.
¡Salud!
Ingredients:
1 1/2 cups tequila (I absolutely love Maestro Dobel Silver, it is exceptionally smooth!)
2 cups lime juice
*Note- this recipe can be made with any other citrus juice such as orange, grapefruit, tangerine, lemon, blood orange (which is super pretty!)
2/3 cup simple syrup (after it's cooled).
Tons of ice.
Directions:
Place all ingredients in a pitcher with lots of ice and mix.
Adjust to taste, if you like it a bit sweeter, add more simple syrup.
If you prefer to use agave nectar or honey, use a cocktail shaker to mix for better results.
Run a wedge of lime across the top of cocktail glasses. Then dip in a plate of salt to salt the rims of your glass (optional).
Pour into cocktail glasses and top with a splash of sparkling soda (optional).
This recipe makes approximately 4 servings, double up if you're entertaining.
*Note- You can reduce the amount of tequila if you prefer less alcohol. Just have fun with it!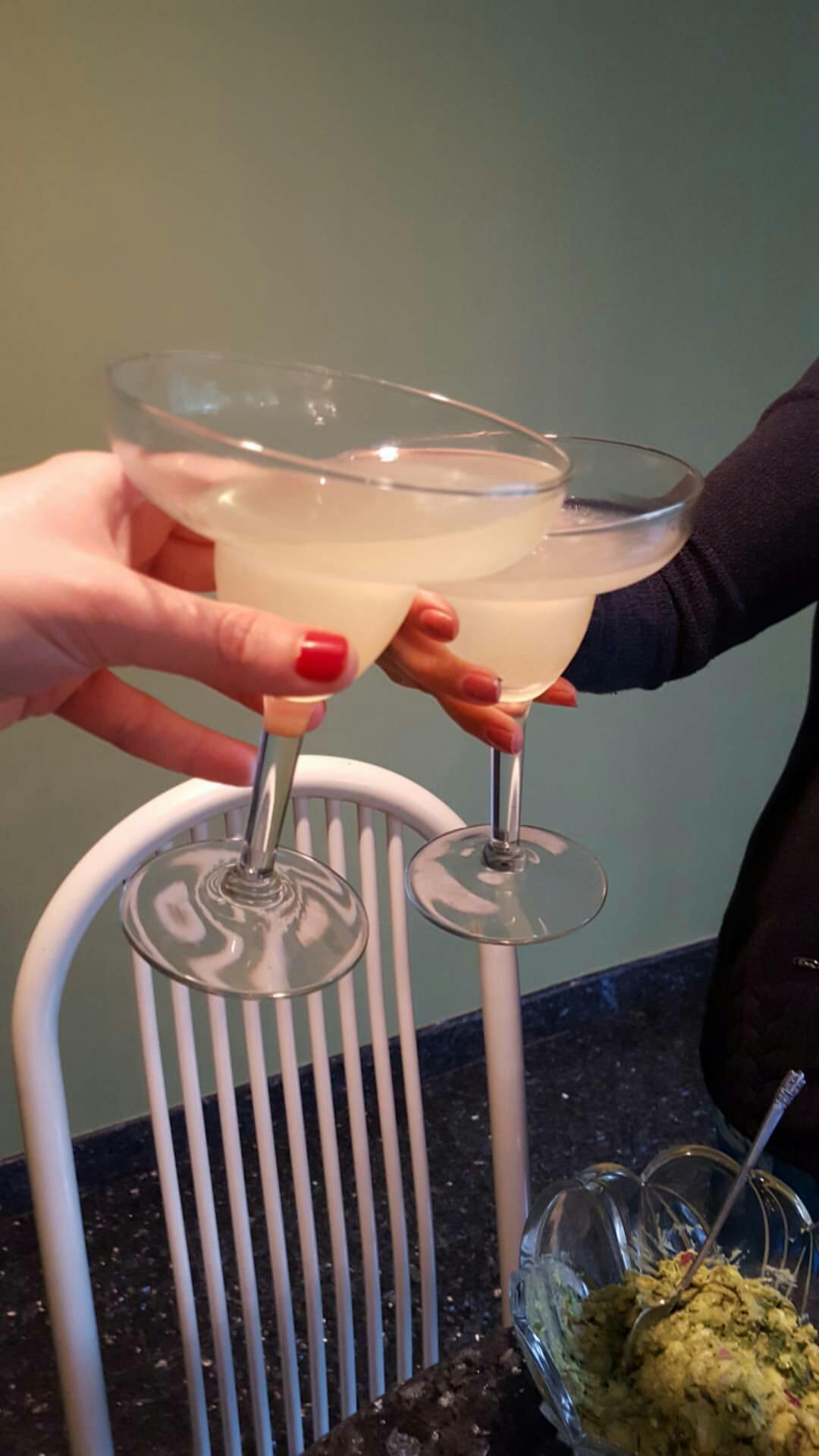 Master sous chef Azi and I toasting to a successful meal!