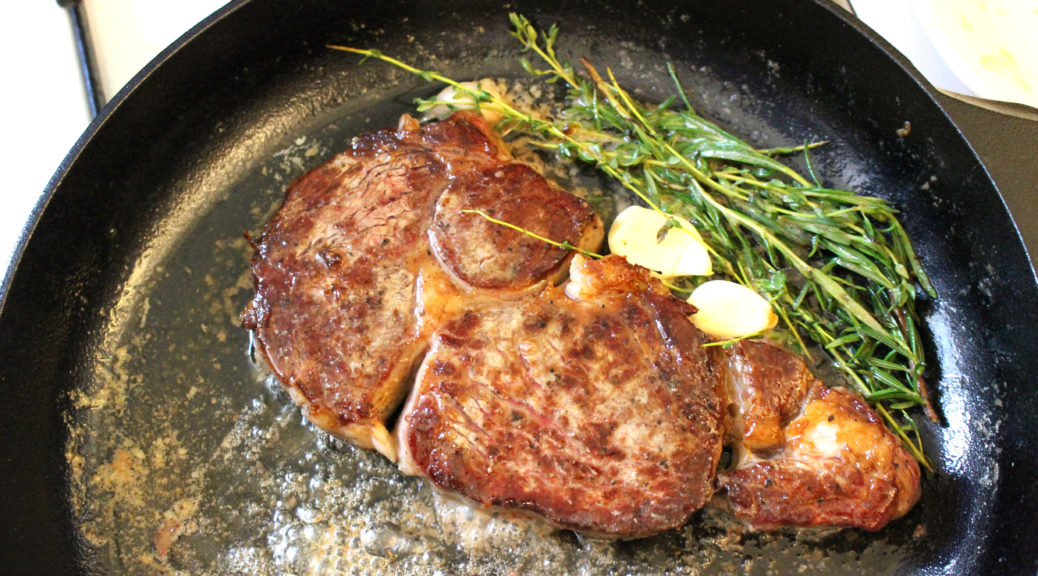 Make The Best Steak Of Your Life!
Make The Best Steak Of Your Life!
Hi Friends,
I'm excited to introduce the first video of our Basil and Roses YouTube Channel!
I team up with my cousin Kam to make the best steak of your life. Impressive doesn't have to mean fancy. All you need is great ingredients and technique, fabulous company and wine doesn't hurt either.
The recipe is below. Check us out and feel free to comment, share, try the recipe and give us feedback.
Happy cooking!
The Menu
Pan Seared Ribeye Steak
Smashed Potatoes
Dijon Asparagus Salad
Ingredients:
For Steak
2 ribeye steaks (approx 1 lb each)
Sea salt + black pepper
2-3 sprigs fresh rosemary and thyme each
3 cloves garlic
2 tablespoons butter or olive oil
For Asparagus
2 bunches asparagus (about 25 spears)
2 tablespoon Dijon mustard
1 tablespoons rice vinegar
3-4 tablespoons olive oil
Salt + pepper to taste
For Potatoes
10-12 small red or yellow potatoes
1/2 teaspoon baking soda
3/4 – 1 cup grated Parmesan cheese (adjust to taste)
olive oil for drizzling
Directions:
Generously salt your ribeye steak on both sides.
Pepper is not required, but I use fresh ground pepper as well.
Put aside.
Prepare potatoes.
Add baking soda and salt to water in a pot, bring to boil.
Add potatoes to boiling water and cook for approximately 20 minutes (until soft enough that a fork goes through easily).
While the potatoes boil, prepare the asparagus.
Cut thicker fibrous bottoms of asparagus spears (approximately 1 inch).
Using a peeler, shave each stalk into "ribbons" (this looks really pretty!)
Place in a bowl.
In a separate bowl, combine red wine vinegar, Dijon mustard, salt + pepper for the dressing.
Drizzle in olive oil while you whisk into dressing, until creamy.
Pour dressing over asparagus and fold gently to spread evenly across.
Let sit and put aside.
Take cooked potatoes out of boiling water and place on baking sheet.
Pat dry.
Using a potato masher (or bottom of a bottle), SMASH each potato down, flattening out the little bud.
Drizzle potatoes with olive oil.
Sprinkle with a small pinch of salt and pepper.
Grate Parmesan cheese over each potato. Use as much as you like, about 1-2 table spoons per potato.
Place potatoes in a 350 degree oven for approximately 20 minutes or until golden brown.
You can turn on the broiler for a couple of minutes at the end to brown the top for extra crispiness.
While potatoes bake and asparagus marinates, we go back to our steak.
Heat your cast iron pan in the oven or stove top until it is super hot!
This is the trick to getting that nice sear on the outer part of your meat.
Place steak in super hot skillet and don't mess with it for at least 30 seconds.
Cook on first side for approximately 3-4 minutes.
Flip your steak and sear the other side for another 3-4 minutes.
Add butter (or a couple of tablespoons of olive oil) to the pan along with fresh rosemary, thyme and garlic.
Note- using olive oil does mean a bit of smoke in in the kitchen when dealing with high heat.
Using pot holders, lift pan and tilt to one side so melted brown butter or oil gather.
Slowly spoon the brown butter over the steak multiple times.
The gorgeous flavors of the herbs and garlic marry with the steak for an awesome flavor.
Remove steak from the pan and LET IT REST for about 10 minutes. This is super important!
You want the meat to rest for juices to redistribute throughout the steak. Otherwise, you'll lose all the juicy goodness when you cut into the steak prematurely.
Once rested, slice your steak cutting against the grain.
Serve with crispy smashed potatoes and asparagus and enjoy!