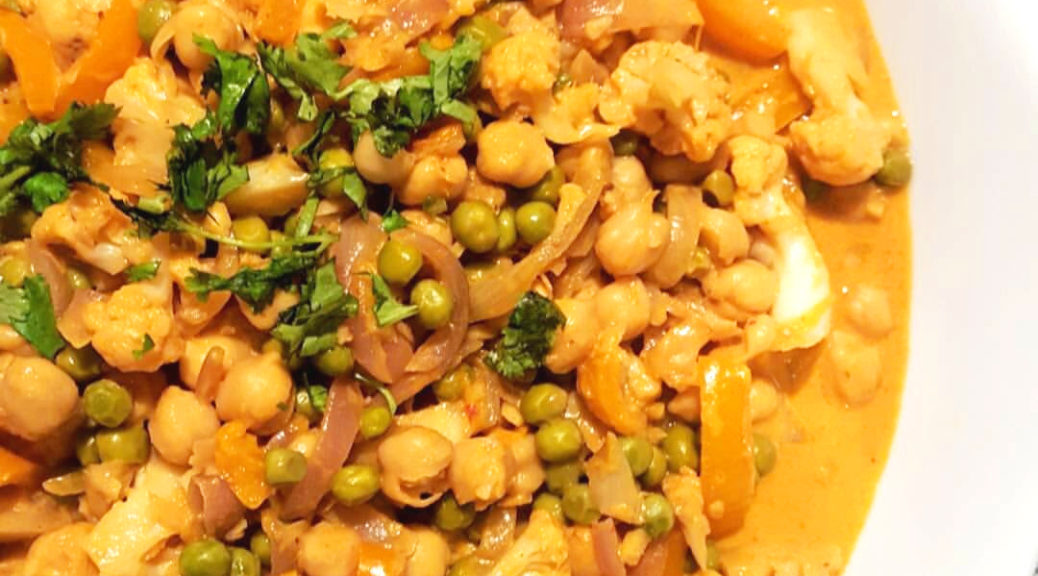 Chickpea & Cauliflower Coconut Curry
Chickpea & Cauliflower Coconut Curry
My latest curry craving almost had me ordering take out, but why do that when you can make fabulous vegetable curry in a snap at home? It is a great go-to dish when you want to impress someone, feed a crowd or just craving curry goodness.
Warning, this is a crazy addictive coconut curry! You can substitute vegetables and  proteins to your liking, but this combo is literally awesome sauce.
What is the magic ingredient? Store-bought curry paste. Most varieties have ingredients which you can only find at Asian Markets. Since most of us don't have lemongrass, kaffir lime, and galangal laying around, this is a great way to achieve authentic flavors.
This recipe is healthy with the added indulgence of a creamy coconut sauce. The miracle of this decadence is that it is vegan and dairy free, despite its richness. It is one of my absolute favorite dishes to eat and just one of those perfect recipes that satisfies many a taste buds and preferences. 
It keeps well, so make a pot of it and you'll have fabulous leftovers for a couple of lunches during the week.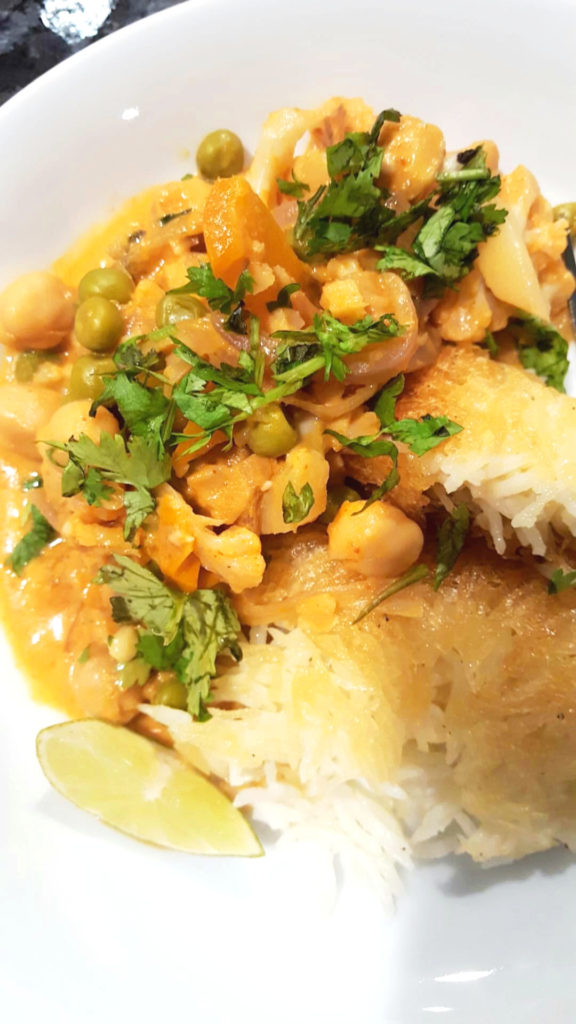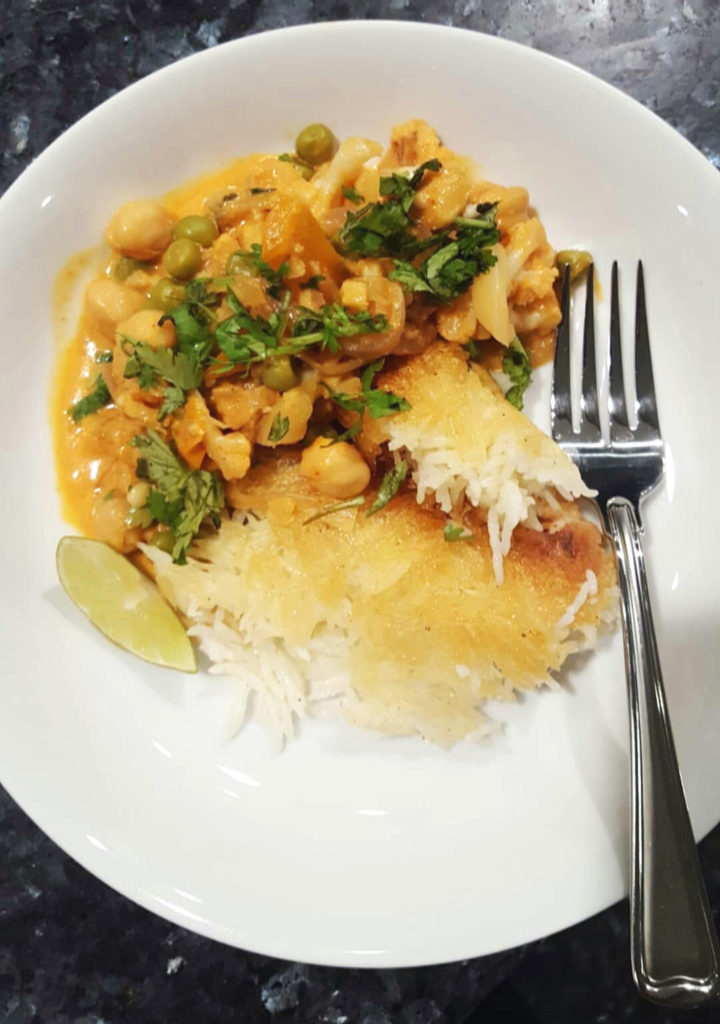 Ingredients:
1 head cauliflower, cut into florets
3 1/2 cups cooked chickpeas
1 1/2 cups frozen peas
1  large or 2 medium red onions, thinly sliced
1 orange or red bell pepper, thinly sliced
3 scallions, thinly sliced
4 garlic cloves, chopped
2-3 tablespoons fresh ginger, minced
2 tablespoons olive oil
3 tablespoons red curry paste
1  14-ounce can whole fat coconut milk
3-4 teaspoons chili power (adjust to taste, but a kick is part of what makes this dish so darn addictive).
1 teaspoon ground corriander
1/2 teaspoon ground cardamon (optional)
1/2 cup fresh cilantro, chopped
1 lime
Salt + Pepper
Basmati or jasmine rice for serving (optional)
Directions:
In a large pot, heat olive oil on medium-high.
Add onions, sauté for one minute.
Add bell pepper, sauté for another 3 minutes until slightly tender.
Add garlic and ginger and sauté for 1 minute, making sure not to burn the garlic.
Add cauliflower and stir.
Now add the red curry paste, chili powder, coriander, cardamom and mix well.
Cook for another couple of minutes.
The kitchen will be smelling amazing at this point!
Add coconut milk and bring the veggies to a medium simmer.
Cover the pot and cook for another 10 minutes, allowing all the flavors to merge.
Once the cauliflower is tender, remove the lid and add chickpeas and peas.
Give the pot a nice squeeze of half the lime.
Taste your curry! It'll be wonderful, I promise.
At this point add more lime if you like and season with salt and pepper.
If you prefer a "soupier" consistency, add 1/4 cup water or coconut water.
Give it one last stir and you're ready to serve.
This curry is perfection with basmati or jasmine rice. But can also be perfectly enjoyed all by itself.
I served it over basmati rice (with the golden brown crunchy tahdig of course).
Garnish each serving with chopped cilantro and scallion and voila!