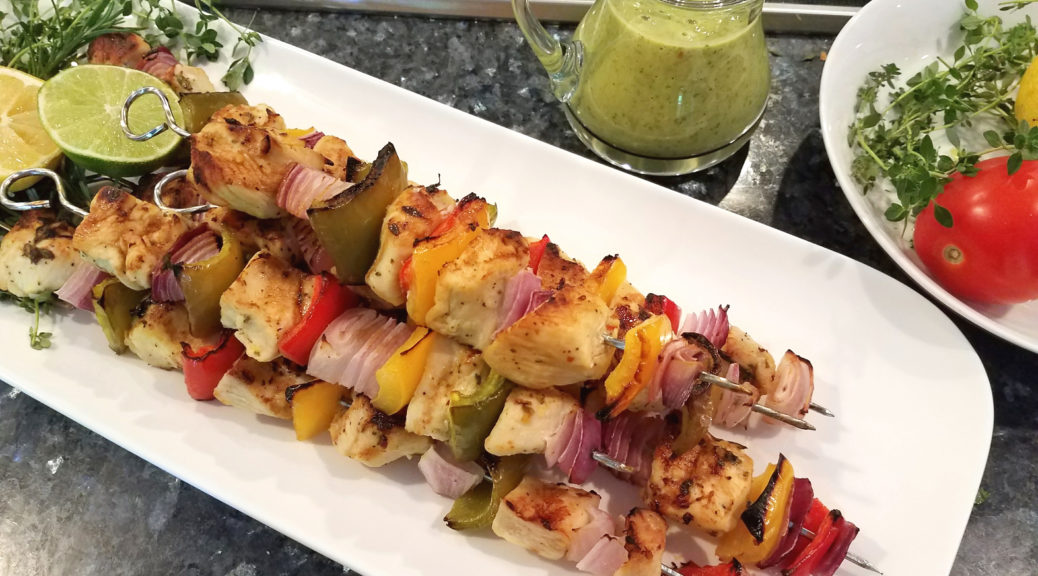 Herb & Citrus Chicken Skewers with Mint-Basil Sauce
Legend has it Kabab was invented by medieval soldiers who used their swords to grill meat over open-field fires. But mostly likely cooking pieces of meat over a flame has been around since humans began cooking with fire.
There are cultural variations to skewered food around the world: En Brochette as in the French technique, Satay of Malaysian or Indonesian origin , Souvlaki of Greece, Yakitori of Japan (which literally means "burnt chicken"),  Espetada of Portugal and my personal favorite Shish Kabab from Iran and surrounding Middle East countries- just to name a few.
It is a simple and practical way to cook and I want to share one of my favorite recipes with you. You can either grill these over fire or bake in the oven. Either way you end up with a tasty and juicy chicken. Drizzle it with my mint-basil sauce and you have a flavor explosion to boot!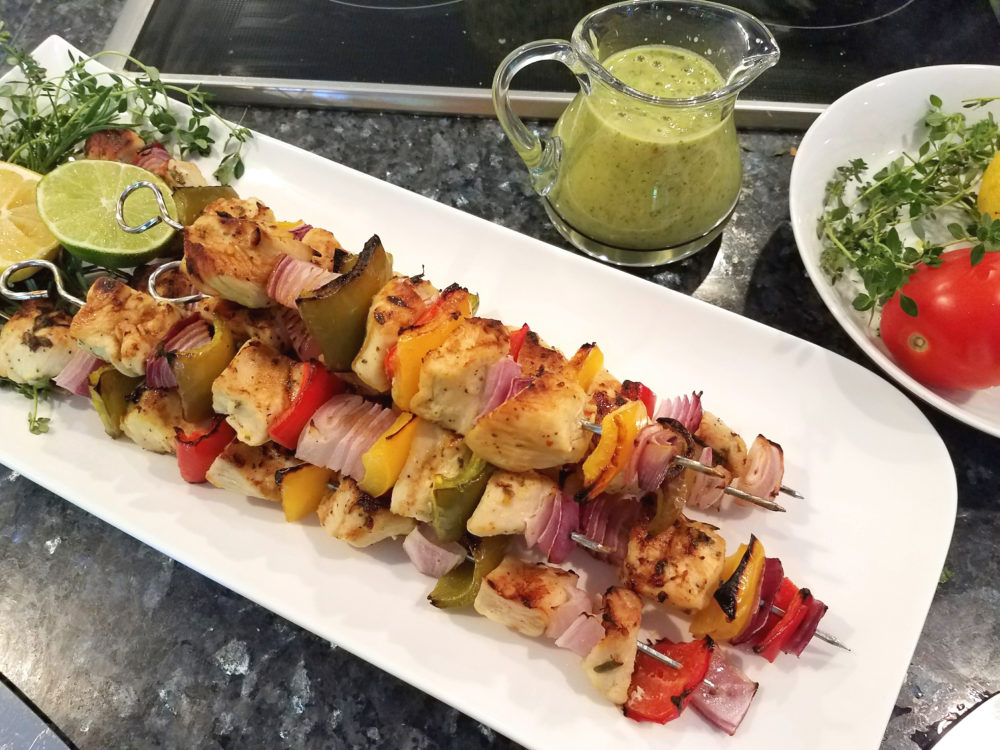 The Ingredients:
For Chicken Skewers:
1 lb boneless chicken breast, cut into 1 – 1 1/2 inch cubes
1 red, green and yellow bell pepper each, cut into 1 inch cubes
1 large red onion, cut into 1 inch cubes
3 cloves garlic, finely chopped
4 tablespoons olive oil
1-2 tablespoons lemon zest
Juice of 1-2 lemons
1/2 – 1 teaspoon red chili flakes (adjust to taste)
1 teaspoon honey
2 tablespoons chopped rosemary
1 tablespoon chopped lemon thyme (use 1/2 tbls regular thyme as an alternative)
For Basil Mint Sauce:
2 1/2  cups fresh mint leaves
1 cup fresh basil leaves
1 cup cooked green peas
2 cloves garlic
2-3 tablespoons red wine vinegar
1/2 – 1 teaspoon red chili flakes
6 tablespoons olive oil (plus more if needed)
Salt + Pepper
Directions:
Prepare marinade.
Combine olive oil, lemon zest, lemon juice, honey, garlic, rosemary, thyme and red chili flakes in a bowl.
Add chicken, add salt + pepper and mix so marinade coats chicken evenly.
Marinade over night if possible, if not 2-3 hours prior to cooking is fine too.
Cut peppers and onions into approximately 1 inch pieces.
Thread chicken and veggies on skewers and alternate for beautiful color pattern.
Make sure skewers are not too tightly packed so everything cooks evenly.
If using wooden skewers, soak them in water prior to cooking so they don't catch on fire.
Once you have everything on the skewers bake in a 375 degree over for approximately 25 minutes, turning skewers over every 10 minutes or so.
If grilling, keep on the flame until golden brown and cooked through, turning skewers occasionally (approximately 10 minutes total).
For the sauce- combine mint, basil, peas, red wine vinegar, red chili flakes, S+P in a food processor.
Pulse a couple of times for a rough chop.
Pulse a few more times while simultaneously pouring in olive oil.
You can add water for a thinner consistency depending on preference.
Serve drizzled with green sauce and a splash of lemon juice and enjoy on top of salad or rice.