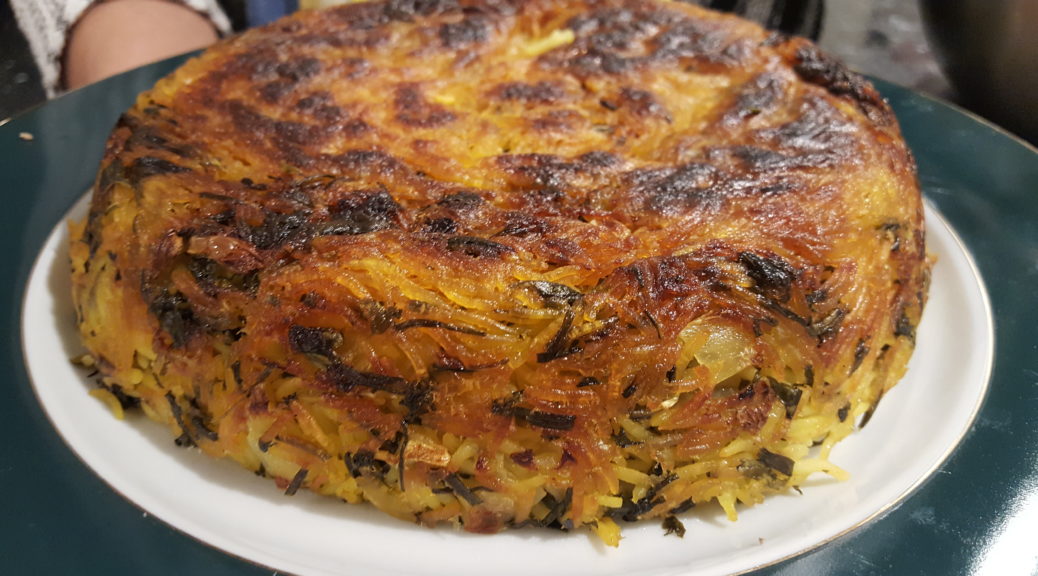 Green Garden Herb Basmati Rice with Basil, Mint, Chive + Rosemary (and an unexpected virtual trip home)
Rice is the ultimate comfort food. It has been farmed by people for over 10,000 years.
In the Hindi language "Bas" means "aroma" and "Mati" means "full of." Growing up in a Persian family, that beautifully fragrant and earthy aroma  is part of the essential scents of home. The cue of happiness and an eternal symbol of family dinners, celebrations and tradition.
Cooking traditional Persian rice (with tahdig of course) is truly an art form. For how to create such a saffron scented masterpiece check out Persian Mama's great recipe here. For a simpler and quicker recipe, I use a rice cooker. Not all rice cookers can deliver the crunchy and golden bottom of the pot goodness. Generally the Pars Brand rice cookers do the trick.
In this rendition, I highlight herbs in the garden using basil, mint, chive and rosemary for an aromatic rice dish guaranteed to feed the soul (nousheh jan...). I was recently in Philadelphia and ate at one of the best restaurants on the scene in recent years: Zahav. Here Chef Michael Solomonov beautifully highlights modern Israeli cuisine. I was greatly inspired by his vision, the story behind his culinary ventures and the flavors of the amazing meal we had that October eve in the city of brotherly love. The Zahav menu excited my senses and my palate was dancing, curiously processing the familiar and the new. As you looked around, most diners had a sense of exploration, discovering the colorful melody of flavors and layers in each dish. Simple, humble and deep flavor that payed homage to the chef's roots and to the beautiful simplicity of the pleasures we can receive from the fruit of the earth.
For me personally, what resonated the most in this culinary adventure were the familiar flavors of home in the smoky eggplant, the coriander, the homemade bread, the grilled meats and the pomegranate. But most notably-  in the herbed basmati rice. The Al'Haesh dishes (grilled over coals) are served with a side of the basmati rice that was not only delicious, but momentarily took me home. This humble side dish became the center of what all the other plates harmoniously danced around. This beautiful little pot of rice had the power to transform me to another place and time. To the familiar places where we feel safe, comforted and loved. To where I remember being happy. To the quite corners of memory,  to our mother's cooking and the taste of my grandmother's love in an old kitchen in Isfahan.  Maya Angelou  says "I long, as does every human being, to be at home wherever I find myself." I found myself at home in this beautiful experience, and I hope you do too by trying my basmati rice recipe.
Ingredients:
3 cups uncooked basmati rice
1/2 cup olive oil
1 large white onion
1 1/2 cups chopped chives
5 tablespoons chopped mint
3 tablespoons chopped basil
1 cup chopped cilantro
1-2  tablespoon chopped rosemary
1 tablespoon ground turmeric
1/ 1/2-2 teaspoons black pepper (adjust to taste)
2 1/2 teaspoons salt (adjust to taste)
Directions:
Wash and drain rice.
Place rice in rice cooker. Cover with approx 1 inch of water above rice.
Add olive oil, onion, basil, mint, chives, cilantro, rosemary and salt + pepper.
Mix and turn on rice cooker. Continue to mix ingredients a couple of more times in the first 3-4 minutes if cooking so all ingredients are evenly spread throughout.
Let rice cooker do it's magic!
Cook rice for approximately 1- 1 1/2 hours, or until the indicator lets you know the cooking is completed. A smaller rice cooker may only take around 45 minutes. The timing can vary depending on the size and model, but trust their settings. I've never had an issue.
Once cooking is finished, remove lid and place a plate on top of rice cooker bowl. Holding the sides with oven mitts, flip the golden rice cake with confidence!
Valiantly demonstrated by my cousin Payam, here:
If you don't have a rice cooker, see here for instructions on how to cook in a regular pot.
Musical Inspiration:
The Idan Raichel Project
http://idanraichelproject.com/en/