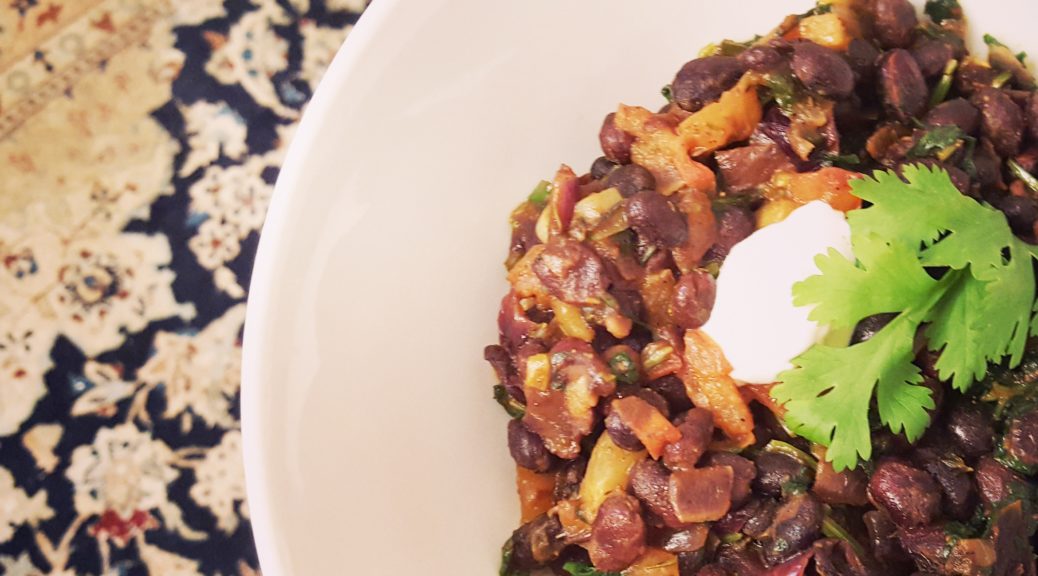 Make this for a quick and satisfying lunch or dinner when you don't have a lot of time.
It's high in protein and flavor and quiet satisfying for a low calorie meal. The kick from the jalapeno gives this recipe a nice heat without being overpowering.
It can also be used as a dip with tortilla chips when entertaining, so it's versatile.
Ingredients:
1  15.5 oz can of black beans
1 medium red onion, chopped
1 clove garlic, minced
1 medium tomato, chopped
1/2 jalapeno, chopped
1 teaspoon cumin
1/2 teaspoon chili powder
1 teaspoon turmeric
1/2 cup fresh cilantro, chopped
Salt + Pepper to taste
1/2-1 tablespoon Mexican Crema or Sour Cream or Greek Yogurt
Instructions:
Saute Onions in olive oil until tender.
Add garlic and saute for 2-3 more minutes.
Add chopped jalapeno.
Add tomato.
Add black beans.
Add salt, pepper, cumin, chili powder, turmeric and cilantro
Mix well and stir for a couple of more minutes.
Serve with a dollop of Mexican crema, sour cream or Greek yogurt and enjoy!