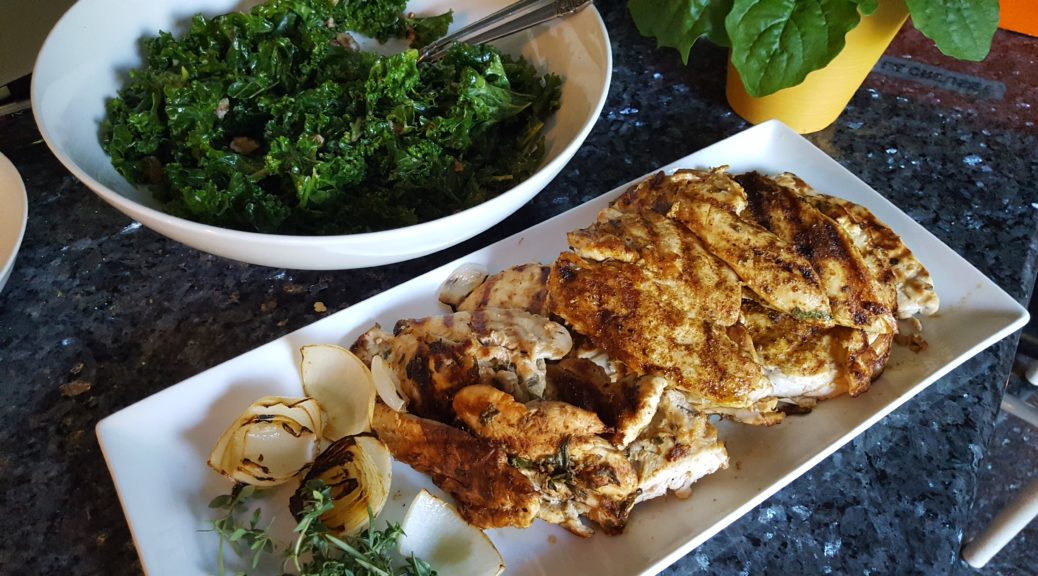 Rosemary/Thyme Grilled Chicken with Walnut Dijon Kale Salad
This recipe is simple and satisfying and an perfect for a casual dinner with friends or family or just  your fabulous self. I often make this for family gatherings on weekend afternoons. The ease in effort allows me to spend more time with my loved but still host a wonderful meal. In the summer I love using fresh herbs from my garden for the marinade and dressing and grill the chicken outside in the backyard. Of course that is not a requirement, the recipe also works well with an indoor stove top grill.
Ingredients:
1 pound kale
4 chicken breast
3 tablespoons chopped rosemary
2 tablespoons thyme (1 for chicken, 1 for dressing
3/4 cup olive oil (split for chicken and dressing)
2 lemons (split for chicken and dressing)
2 teaspoons Dijon mustard
3/4 cup chopped walnuts
salt + pepper
Directions:
Marinate chicken breasts in lemon juice, "good" olive oil (my inner Barefoot Contessa couldn't help herself), rosemary, thyme, salt + pepper for 1 hour.
Wash Kale thoroughly. Drain and pat dry. Place in a bowl and drizzle with olive oil.
Using your loving hands, message the olive oil into the Kale.
Yes, start messaging…
It may seem strange but a 5 minute spa treatment can do wonders for this nutritious green.
You'll be amazed to see how the gentle rubdown will transform the kale from a tough and bitter leaf to sweet silky sensation.
If you practiced your mindfulness for the day, you'll notice a change in darkening of color and texture as you message your soon to be delicious salad.
Maybe someone else has melted and turned sweet into your hands before, but if not Kale will not disappoint. Anywho, this is how you make eating raw Kale a more pleasant experience. Don't forget to remove the tough stems and only message the leafy part.
In a bowl whisk together half of the olive oil, Dijon mustard, juice of 1 lemon, salt + pepper and thyme.
This simply elegant dressing will compliment the chicken well.
Drizzle the oil into the rest of the ingredients as you whisk.
Don't add all of it at once.
Stop periodically and taste the dressing; you may not need all the oil.
Add the walnuts to your salad and voila! This elegant and delicious salad is done!
Grill chicken breasts on a stove top grill or outdoor grill and serve right on top of the salad.
Make sure chicken is cooked through and not pink in the center.
The thyme in the dressing compliments the herbed chicken, the nutty walnut adds a nice textural complexity to the otherwise softer textures and the fragrant herbs add a beautiful and satisfying finish to every bite. Your palette and friends will be impressed!
A quick note on homemade vinaigrettes: 
Once you know the ratio of acid to oil, you don't need a recipe. The traditional formula is 1 part acid to 3 parts oil, but this varies depending on the acid used and your personal taste. Many people prefer a 1 to 2 ratio of acid to oil. So experiment and see what you like!
Vinegar range in acidity from about 4 to 7 percent. The higher the acidity, the sharper the pucker power, and the more oil you'll need to balance it. For example, Rice vinegar is less acidic so it needs less oil than others.
Freshly squeezed lemon juice is often used in place of vinegar, but it's slightly more acidic than some vinegars, so it may require a bit more oil. Over time, fresh lemon juice loses some of its punch, so it's best to make a small batch and use it up quickly. Many vinaigrettes include a combination of vinegar and lemon juice.