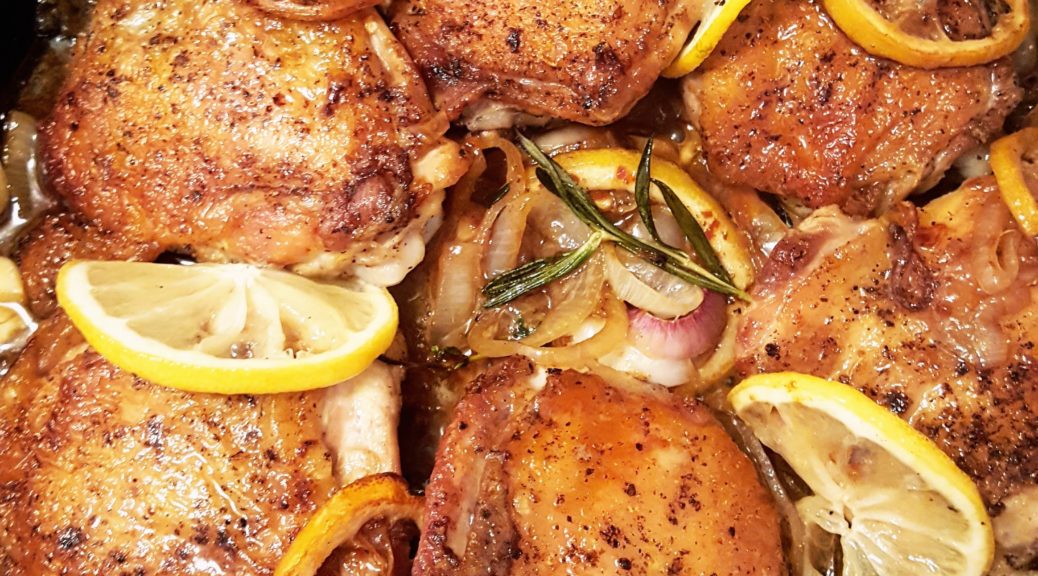 Skillet Chicken Thighs With Shallot, Lemon & Herbs
A sophisticated yet humble approach to cooking is all you need for this recipe. It is about technique. A simple one which delivers results fabulous enough for a gathering, yet quick enough for a weeknight dinner.
I have always enjoyed the down-to-earth-ness of cooking with cast iron skillets. But in the past few months, I've learned it is more than a look or a feel. This tool delivers fantastic results- mainly because it retains heat within the metal, cooking food uniformly at hot temperatures, and leading to superior flavors.
They are heavy in weight and require small maintenance (mainly to avoid rust), but the minor care is well worth the end results. I became a believer after making our "Best Steak of Your Life" recipe in a cast iron skillet. I've made many fantastic recipes since and my favorite go-to dish is Skillet Chicken Thighs! Regardless of what aromatics you use, the technique of cooking the chicken skin side down to render the natural fats, make the skin crispy and draws out phenomenal flavor!
In this rendition I use shallots, rosemary, thyme and caramelize lemons. But this recipe is infinitely customizeable. Swap the rosemary for oregano, add mushrooms or sweet tender peas. Zucchini and squash take well to this rustic recipe as well. Get creative with your favorite veggies and herbs, you can't mess this up!
Note- My favorite skillet is the Lodge Seasoned 12″ pan found here. The supplier Quiverr provides excellent customer service on how to best care for your cast iron.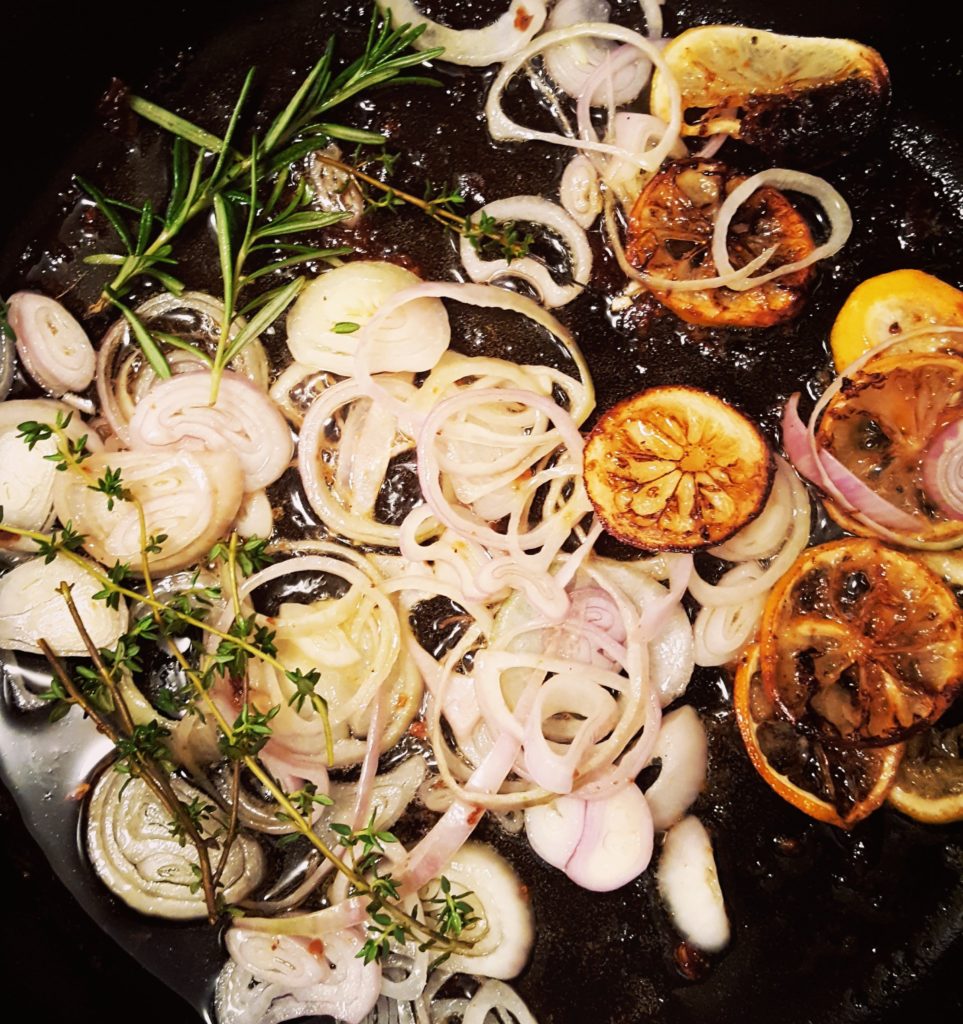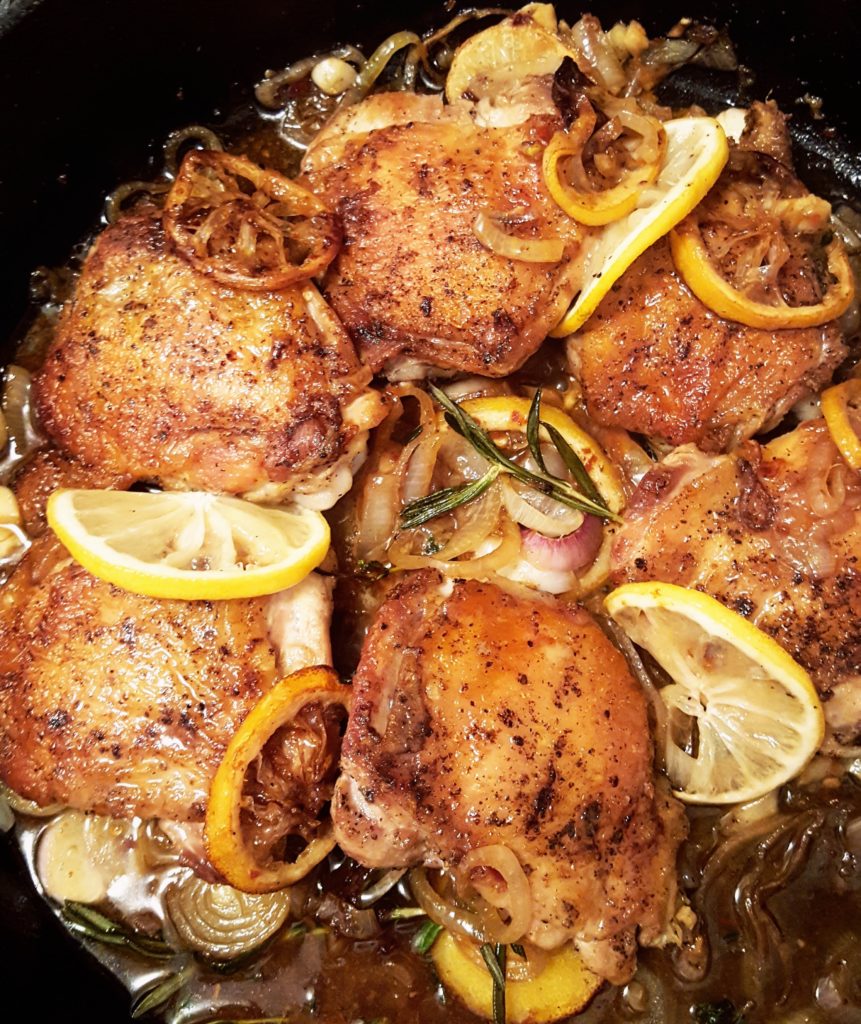 Ingredients:
6 skin-on, bone-in chicken thighs (approximately 2.5 pounds)
1 large or 2 small lemons, sliced
1-2 small shallots, sliced
1 small garlic clove, roughly chopped
1/2 teaspoon crushed red chili flakes (adjust to taste)
4-5 sprigs fresh rosemary and thyme (if you don't have fresh herbs, dried oregano works well too)
1/2 cup dry white wine
1-2 teaspoons vegetable oil
Kosher salt + freshly ground black pepper to taste
Directions:
Pre-heat oven to 425°.
Pat dry chicken with a paper towel (any water will cause messy splatter).
Season chicken generously with salt + pepper on both sides.
Slice the lemon, reserving some juice for later.
Heat skillet to medium after coating with 1 teaspoon of grape seed oil or any vegetable oil with a high smoke point. You can use olive oil, it only means you'll have more smoke while cooking.
Add chicken skin side down and listen to the sizzle as the skin browns while the natural fat is rendered.
Cook chicken this way for 8-10 minutes or until halfway cooked through.
Transfer chicken from skillet to platter.
Layer 1/2 the lemon slices on bottom of skillet, add chicken back on top of lemons (skin side up), and add remaining lemon slices among chicken thighs.
Lemons on the bottom will beautifully caramelize while top lemons soften.
Transfer skillet to oven, allowing chicken to cook through (approximately 8 minutes).
Remove skillet from oven and move caramelized lemons and chicken to a plate.
On medium heat, add shallots, garlic, herbs and red chili flakes to the soft lemons in the skillet.
Stir frequently for 1-2 minutes. The aromas will we wonderful at this point.
Add the wine to skillet to de-glaze the plan, scraping flavor-packed brown bits from bottom of pan.
Squeeze remaining lemon into sauce and season with salt + pepper.
Return chicken to skillet and nestle in the delicious sauce you just created.
Make sure thighs are not submerged in sauce to maintain crispiness.
Top with caramelized lemons and serve!