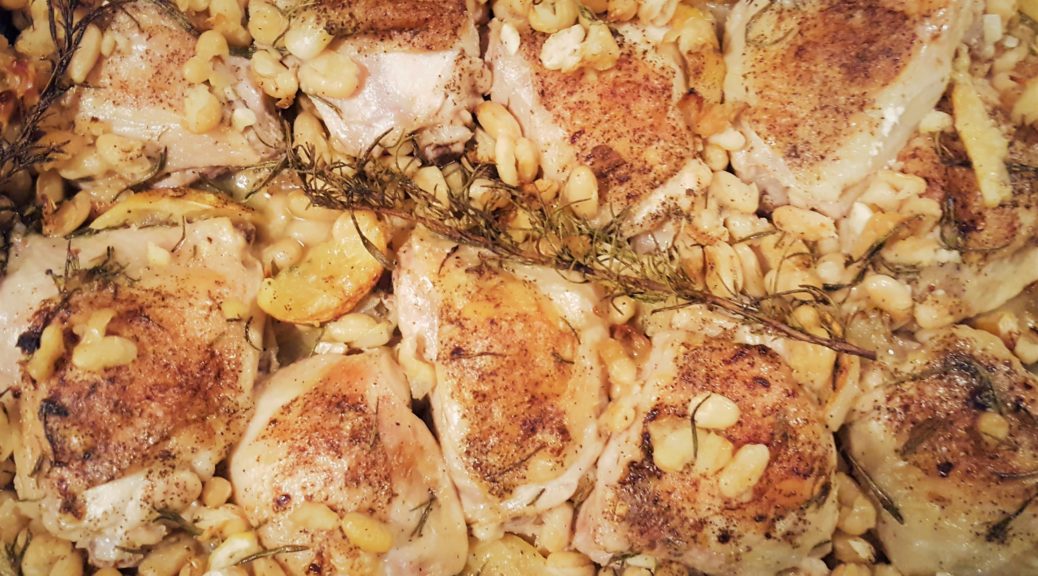 Tuscan Inspired Lemon-Rosemary Chicken with Cannellini Beans & Roasted Squash-Arugula Salad
There's something so fulfilling about roasted chicken and this sense of satisfaction is universal. The warm aromas that fill the kitchen while it cooks are comforting and feel like home. I love the different ways you can roast chicken with endless herbs and veggies- somehow lemon and rosemary end up on the rotation more often than others. There is something magical about how this combination marries with garlic and olive oil. You can develop deep flavors in this  simple recipe. The cannellini beans are creamy and filling and beautifully absorb the rosemary, garlic + lemon. The kitchen will smell divine too.
Once the salad is made, serve with chicken and a nice glass of white wine. If you're inspired by the rustic Tuscan flavors, try a nice Vermentino. Tuscany is known mainly for it's red wines but there are lovely whites as well from the coastal regions of Tuscany known as "La Costa Toscana!" Just the name is divine! (forgive me, I'm taking Italian lessons and I'm in love with the language). According to Zester Daily, "Vermentino should have an appealing sapidità, a difficult word to translate into English — "sapidity". Essentially it should leave you wanting another taste, or indeed another glass."                  No arm twisting required here…
Lemon-Rosemary-Garlic Chicken with Cannellini Beans
Ingredients:
8-10 chicken thighs
4 Rosemary sprigs
2  15.5 oz cans of cannellini beans
4 large or 5 small cloves of garlic, roughly chopped
2 lemons
1 cup white wine or water
1/2 cup vegetable oil
1 teaspoon red chili flakes (adjust to desired heat)
salt + pepper to taste
Directions
Preheat oven to 400 degrees F
Wash chicken thighs and pat dry, place in roasting pan
Squeeze the juice of 1 lemon on the chicken
Spread cannellini beans around chicken thighs in pan
Add chopped garlic over beans
Add rosemary sprigs spread across pan
Pour white wine into pan (if you don't have wine, you can use water)
Squeeze the juice of another 1/2 lemon all over beans
Slice remaining lemon and place wedges in between beans + chicken
Rub top of chicken thighs with olive oil (for crispy goodness) and pour the rest over beans
Season with red chili flakes, salt + pepper
Bake at 375 degrees for approximate 45 min – 1 hour depending on size of chicken thighs
Roasted Squash-Arugula Salad
Ingredients:
3-4 cups arugula (or other green of your choice)
1 avocado, cubed
3 medium Roma tomatoes, chopped
1 small red onion, finely chopped
2-3 tablespoons fresh chive, chopped
juice of 1-2 lemons
3-4 tablespoons good olive oil
3-4 green squash, chopped
2 small or 1 medium white onion, chopped
salt + pepper to taste
Instructions:
Saute white onions in vegetable oil until translucent.
Saute squash until soft.
Season with salt + pepper, set aside.
Assemble salad ingredients in a bowl adding arugula, chopped tomato, chopped red onion, chopped chives (optional).
Cube 1 avocado and add to salad.
Squeeze lemon juice immediately on avocado so it doesn't oxidize and turn black.
Add good olive oil and a bit more lemon juice directly on top of salad along with salt + pepper and fold gently to mix ingredients.
Add sauteed squash on top of salad.
Serve with the chicken and buon appetito!
Musical Inspiration:
Andrea Bocelli, Melodramma (Vivere Live in Tuscany)