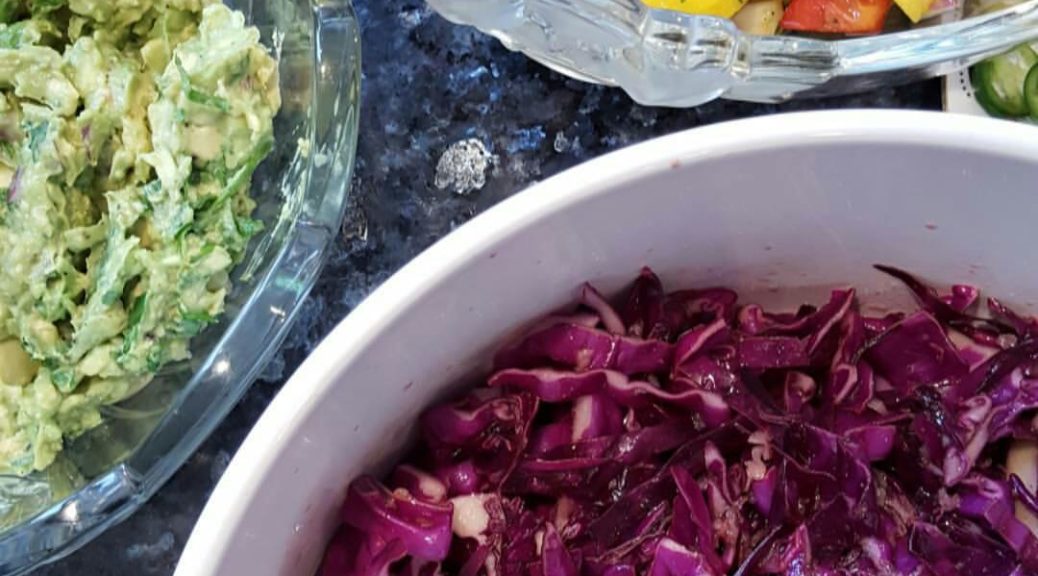 Azi's Red Cabbage Slaw with Honey-Lime-Cumin Vinaigrette
This was the first time I made this and it ended up being great. I love using red cabbage for it's beautiful color, slightly bitter and peppery flavor and many health benefit- Vitamin C, A, K and dietary fiber to name a few. It adds a nice crunch to the otherwise soft textured fish taco and marinated in a honey-lime-cumin vinaigrette it became a great addition to our fiesta!
In case you're wondering, it's called "Azi's Slaw" because my beautiful sister Azadeh was a big help in the recipe testing of this dish. She has always been a dream sous chef, putting up with my colorful antics in the kitchen… Thanks, Sis!
Ingredients:
1 whole red cabbage, cut into quarters and sliced into ribbons
For the vinaigrette-
1/2 cup olive oil
1 tablespoon honey (adjust to taste and add more honey if you prefer the dressing sweeter)
1/3 cup lime juice
2 garlic cloves, mashed with the side of a knife
2 teaspoons cumin (plus a pinch just because I LOVE cumin!)
1 teaspoon paprika (smoked paprika is even better if you have it)
1 teaspoon salt
1 teaspoon black pepper
Directions:
Combine lime juice, garlic, cumin, paprika in a mixing bowl.
Slowly add olive oil as you whisk dressing together.
Adding oil slowly while whisking helps emulsify the dressing so it won't separate (science, baby!).
Add salt + pepper to taste as  you go along, adjust as needed.
Add dressing to cabbage and mix well.
Let sit for 20-30 minutes. It gets better after it sits for a while.
*It was even better the next day when we had the leftovers with chicken.